Andorra
It is obviously misguided to utter aloud sentiments like "I don't think we'll ever bother going to Andorra again", but that did not prevent me from saying this to Jeff after our penultimate trip to Andorra earlier this year. To be fair to myself this particular trip had not been a huge success. One of our guests had expressed a strong desire to visit a different country (I think she felt she had seen rather a lot of France) and the idea of Andorra, a romantic sounding principality ringed by mountains and sandwiched between France and Spain, was simply tantalising. In her mind Andorra was undoubtedly a combination of the glittering image of a wealthy tax haven like Monaco AND the glamour of pristine forests, craggy mountains and ski slopes such as can be found in the Alps. I confess we did attempt to dispel her rather over-romanticised vision:
"It's a long drive", said Jeff. (It's about 2 hours)
"I would describe it as tawdry", I said (well Pas de la Casa is not especially glamourous)
"There's nothing to do but shopping", said Jeff (as if this has EVER discouraged any woman)
"It's rained every time we've been there", I said (and snowed, and been incredibly windy...), "And it's really quite ugly".
"The altitude could be a problem", said Jeff
"We've not had a decent meal there yet", I moaned.
"Oh well, if its too much trouble", countered our guest.
"No trouble at all", we replied in unison.
So we had sallied forth full of optimism but after the tedious long drive Andorra lived up (or should that be down) to our expectations. It was cold, wet, the food was almost inedible and our guests bored of the shopping in minutes.
"I've never seen so many different sizes of paella dish", observed one politely.
"I imagined it would be like Lichtenstein or Monaco", added the other, attempting to hide her disappointment.
Our guests suffered from breathlessness brought on by the altitude and hastily retreated to the warmth of the car while I raced around the duty free shops in search of Mon Cheri chocolates, Spanish chocolate spread and the cheapest Bombay Sapphire gin. As we now had a fully stocked drinks cabinet and a full tank of cheap diesel I really could not see any good reason to go back to Andorra. Ever.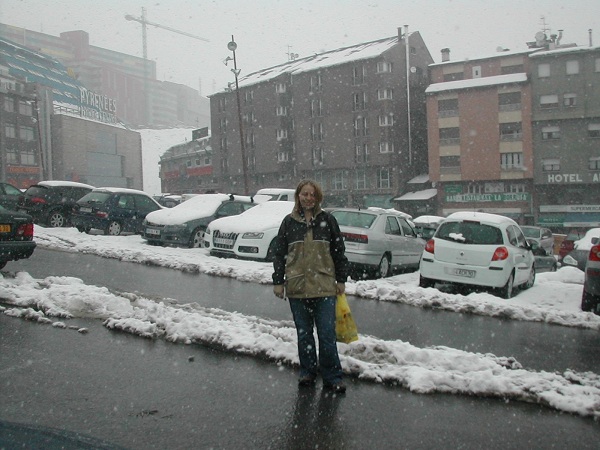 Reasons to be cheerful . 1 . 2 . 3 . We have booze! (Pas de la Casa car Park)
That was until last week. As I am sure you have probably guessed we have made a subsequent visit to Andorra and, quite amazingly, it wasn't too bad. We have only just realised that folk who have lived in these parts for a while still make regular trips to Andorra. And they don't just come back with cheap cigarettes. They seem to purchase all manner of cheaper goodies ranging from sugar (the born-again jam making domestic goddess in me made a mental note of this) to cheap TVs, mobile phones and kitchen gadgets. It is the last item in this list that is the catalyst for a trip to Andorra: my mother is here and has generously offered to buy me an ice cream maker for Christmas. Having scoured the local electrical stores and supermarkets for a suitable "machine à glace" without success I rather rashly convince myself (and Jeff and my mother) that we must surely be able to purchase one at a knock-down price in Andorra.
We are well organised for our trip and leave Camon before 9:30am armed with warm jumpers to combat the cold and a picnic to avoid having to eat in any of the disappointing and over-priced restaurants. We have also remembered our passports (it is not an EU country), checked and totally ignored the duty free allowances and played the obligatory "guess how much the diesel will be in Andorra" game. Obviously I am only mentioning our ritualistic game where each member of the group guesses how much cheaper diesel will be in Andorra than in France because, on this occasion, I won! So our spirits are high and we are filled with optimism.
On this day the drive is absolutely magnificent and the reason is, quite simply, that the sky is blue and the sun is shining. The bracken covered slopes have a deep golden orange hue, clear mountain streams sparkle in the autumn sunlight and we pass under an elevated railway bridge outside Ax les Thermes as a train is passes overhead before plunging towards Andorra through tunnels cut through the mountains. My mother comments frequently on the beauty of the landscape; Jeff supplies technical information on a regular basis which includes updates on the temperature drop as we ascend, our current altitude, our E.T.A and the unbelievably reckless driving of other motorists. I just gaze out of the window at the colours, the shapes, and the sheer grandeur of the Pyrenees as if I had never seen them before.
"It's not as ugly as you said", chides my mother
And I find myself agreeing with her. Even Pas de la Casa looks rather lovely when its not viewed through drizzling rain or surrounded with brown slushy snow.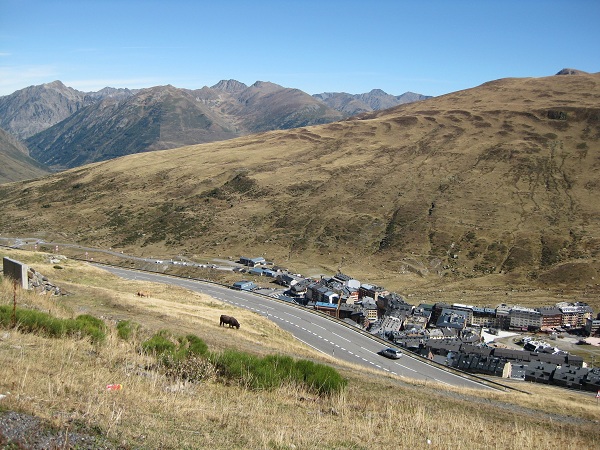 Even Pas de la Casa looks lovely today
Sadly the shopping has mixed results. We do not purchase an ice cream maker but we do manage to fill several bags with food goodies including serrano ham, Spanish tortilla and biscuits and chocolates for Christmas. We also discover a shop which sells an astonishing range of spirits and liqueurs "vrac" (by the litre) and eventually stagger out of the store with plastic bidons filled with "cointreau" ("I can taste the difference" – Jeff) and a rather bilious green liqueur Poire William which I am intending to use in ice cream making (when I get the machine of course). I must stress the cheapness of these drinks – the "cointreau" is less than 4 euros a litre (as compared to 12 euros – Andorran price - for the genuine tipple) and the pear eau-de-vie is 2 euros a litre.
So, could this have been our final trip to Andorra? Although realistically there is little for our guests to enjoy we might become like other Ariege residents and make the trip on a regular basis to fill up the car, fill up a plastic bottle with fake liqueur and stock up on Spanish goodies. Or maybe we'll develop the taste for skiing... Never say never.