Only the British have a survey...
When we bought our house in Camon in 2006 the estate agent, JJ, laughed at our request for a survey and told us that in France it is only the British buyer who has a survey. We pressed ahead and engaged Eoghan (no, I haven't got keyboard dyslexia – he is of Celtic origin) who is a structural engineer. Unsurprisingly his report revealed nothing more sinister than that the steel cables in the balustrades are not close enough together. Was this a waste of money? Should we have been more French in our attitude and trusted our instincts as well as Jeff's extensive knowledge and experience in these matters? I'm not sure really and the interesting thing now with the impending purchase of Mireval is that we have instructed Eoghan once again to advise us.
Eoghan met us at the site and the first matter Jeff wanted to discuss with him was (you've guessed it) that drain. Jeff and Eoghan stood and looked at the drainage ditch on the far side of the road, paced the route of the drain under the road and stared through the open grate directly in front of the gite front door. Yes, they concluded, it is run off from up the hill. Brilliant! But didn't we already know that? The next question was where exactly does it run after it has passed under the building? This mystery is quite as riveting to us as a Dan Brown narrative and luckily for us it was solved a lot quicker thanks to our French neighbours.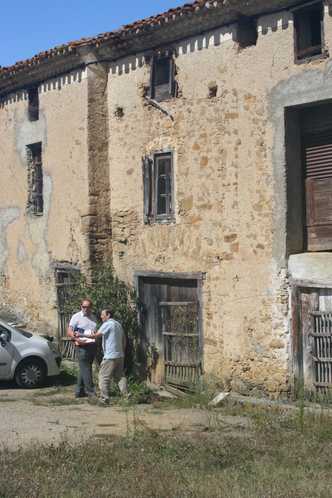 It comes from over there to over here
The young French couple who have bought the farmhouse and barn attached to our future gite had cut the grass. I should explain that there is no fence between our properties and the boundary is marked by a paint splodge on the gite wall and the imaginary line that our neighbours have hitherto mown their lawn up to. For some reason the neighbours had kindly decided to mow all the grass, ours included, and this has revealed various clues which Eoghan, our own Robert Langon, can interpret. These clues comprise 5 slabs of concrete, 1 oval mill stone and an open marshy area which we think is also on our land. Our detective adopts the simple yet brilliant strategy of lifting all the concrete slabs and looking underneath to see what is there. The first slab reveals an enormous spider and a septic tank access port, which he deduces belongs to our neighbours as we don't have a septic tank yet. Slabs 2 and 3 and the marshy area map out the route of the drain over our land – hurrah! Slabs 4, 5 and the oval millstone are red herrings – they don't seem to serve any function whatsoever.
So we are satisfied on the drain issue at last. As all these slabs need to remain accessible I have to hastily redraw the garden layout in my mind. The infinity pool will not be able to be situated where I had imagined. Even though I can clearly visualise this gorgeous pool I suspect it is a mirage. This is confirmed when Jeff asked Eoghan the question I have been dreading. Namely, how much does he think a renovation like this would cost. I am gritting my teeth and WILLING him to respond with a nice sensible low figure like the budget Jeff and I have been talking about. But no. Its not twice the budget. No, it is, in fact, three times more. Jeff shoots me a triumphant "I told you so" look.
"It won't cost us as much as that because we will be doing a lot of the work ourselves" I tell Eoghan, rather defensively.
He gives me a condescending look which articulates more clearly than words ever could that he has seen it all before. The naïve, romantic dreamers, often English it has to be said, who think they can buy a tumbledown ruin for a song and believe they can create a breathtaking palatial residence for the equivalent of a terraced house in any given UK city.
Are we mad? We have joked about our inadequate funds, the massive scale of this project and just how far outside our understanding restoration work like this really is. And now we have to decide whether to proceed with this project or put our feet up and soak up the sunshine on the balcony at Camon. We have to decide because Lizzie has just phoned to give us the long-awaited news that the compromis de vente is ready for signature at the notaire's office. All we need to do is fix an appointment before we fly back to the UK on Thursday. I think several glasses of rosé are going to be required before a final decision can be made.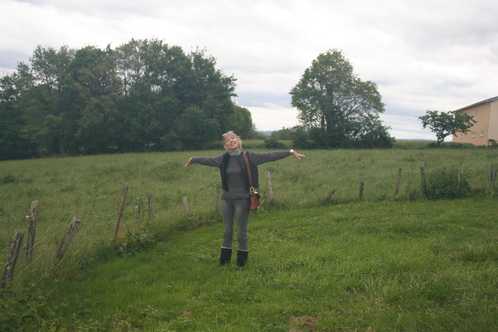 Lizzie as boundary marker. "Your land comes to here.
Am I standing in the infinity pool or the hot tub?"