Sunday market at Espéraza
We'd already heard about the large Sunday morning "hippie" market at Espéraza and thought we'd get up at a reasonable hour this morning and check it out.
If I'm honest it was not so much the allure of stalls selling donkey milk soap and didgeridoos that attracted me, but rather the location of Espéraza town itself. The town is built on a tight meander of the Aude river and the drive from Camon, via Chalabre, Puivert and Quillan, is simply breathtaking. Today the route was even more spectacular as road resurfacing, which I'm sure you'll agree is not normally a pleasurable prospect in the UK, meant we had to follow a diversion high up into the hills along part of the route des sapins (pine tree road). The view from the top of the cirque du Quillan is, as you can see, very lovely.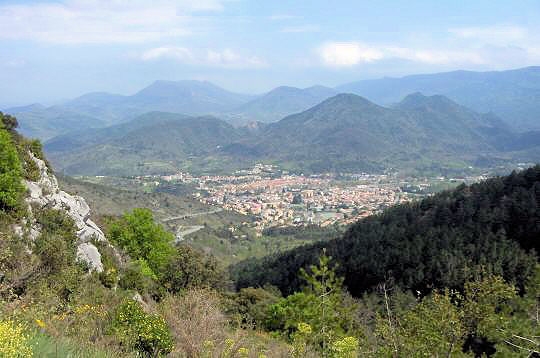 So having arrived at Espéraza and found a parking space (no easy matter – I can see why there were so many bikes and happy looking bikers around) we crossed the bridge to the main part of the market.
I have been, I'm rather ashamed to say, slightly suspicious of the design and usefulness of many of the products so beloved by people with new-age leanings. I confess to being rather disappointed by the tricolore pasta from Treziers (which is about 5km from Camon) which, in my imagination, is hand-made by the unwashed people from the hippy commune there. The pasta in question was mouth-watering to behold in the bio-degradable packet but upon contact with boiling water formed an soggy brown mush (where did the beetroot coloured spirals go I wondered). Similarly, I have yet to find anywhere in my home for a knitted hanging pot holder or a kazoo. But by far the largest issue is the important matter of the clothing.
A couple of years ago when Greg and Shantel E visited us in Camon we took them to Mirepoix market which has a fair smattering of "hippie" stalls. Eventually Shantel observed that she would probably not be able to happily live in this region because she couldn't see herself ever being able to buy any of the brightly coloured asymmetric knitwear in either of the available options of Rastafarian red, green and black stripes or startling psychedelic swirls. I wholeheartedly agreed with her and for her delectation here is a picture of this year's haute couture hippie winter collection at Espéraza: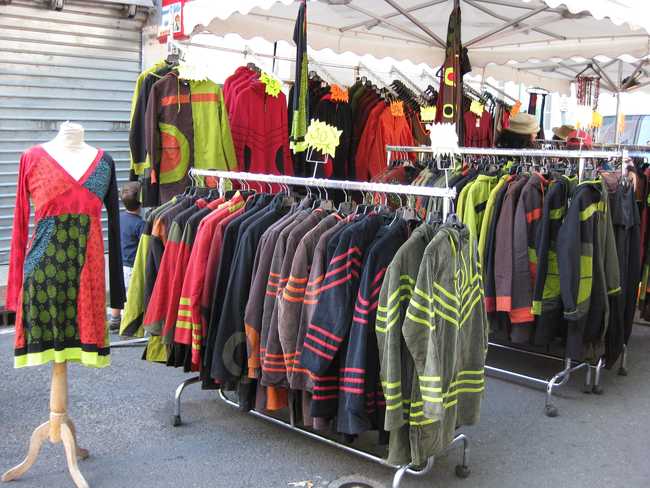 Surprisingly, I didn't actually purchase anything shown here but was rather amazed to find myself handing over 7 euros for a sage green crochet back shrug (go on, I can take the rude comments). If I live here for many years I might not necessarily be forced to make dresses from discarded curtains or repeatedly darn that favourite jumper purchased 20 years before in the UK! There is some hope.
Apart from the usual temptations French markets offer of fresh seasonal veggies (we bought yellow beef tomatoes, long white aubergines and a pumpkin) Espéraza reverberated with live music. The constant drone of a didgeridoo was occasionally punctuated by Spanish guitar playing and a large crowd loudly applauded various groups singing spirituals outside the church in the old square. A great way to spend a Sunday morning in Aude, maybe we'll be able to get up before midday to go again.