Simplicity or duplicity?
I have reached my ultimate destination in the UK and am now installed, once again, in Southsea, Hampshire. As I am probably going to be here for two months I have decided to use my non working time (evenings and a few snatched hours at the weekend) to develop Maison Dumay, my future ETSY shop and to catalogue and describe the exciting stock I have already amassed in France.
Naturally I could not resist the temptation to see if I could source any interesting items here in the UK and surprisingly I have found several small items that I think are quite fascinating. These are mainly paper ephemera although I have found some quite stunning retro aprons to boost the household linen stocks.
Up to this point my main "paper" coup had been the discovery of several pre-WW2 copies of the sumptuous French magazine "L'Illustration", a lavishly illustrated weekly magazine published in Paris. It has the distinction of being the first French newspaper to publish a photograph and in 1907 it became the first paper to publish a colour photograph. I have spent many hours now extracting fabulous advertising plates ready to be mounted. To my way of thinking these magazines are time capsules. Their pages are filled with scientific discoveries, reportage of significant historic events and a tiny smattering of Tatler-esque coverage of social events and fashion.
It is primarily the advertising that continues to draw my attention in these magazines. A Renault advert promises superiority on the road if you drive the new 6 cylinder model which boasts a top speed of 130 kmh. Apparently in 1938 only Fly-Tox could protect you from the horror of an enormous housefly and you too could have Mickey Mouse in your own home thanks to a Kodascope machine. I imagine a housewife would have craved a continuous flame AGA which offered the most economical cooking in the world and that a gentleman could picture himself in a Flechet hat which was not only the highest quality, oh no, they were PERFECT hats. These hyperbolic claims have all but disappeared from modern advertising presumeably thanks to the introduction of advertising standards but looking at these images I can't help but feel that some of the glamour has been lost too.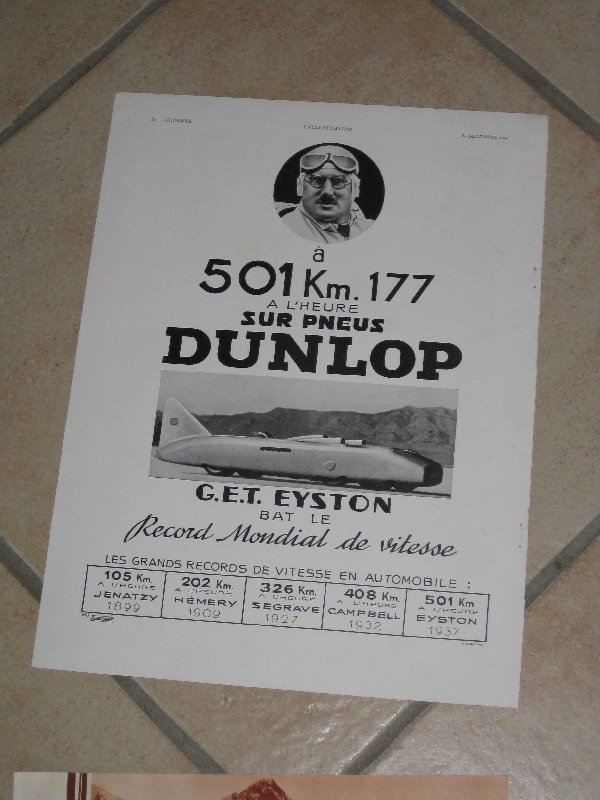 I wonder if Monsieur Eyston would have been able to beat the world land speed record without those Dunlop tyres
History, values, lifestyle and national identity are certainly writ large over the pages of these 1930's copies of L'Illustration but my discovery yesterday has a markedly different personal dimension.
I was lucky enough to chance on a collection of dress making patterns spanning three decades from the 1950s to the 1970s. They had all belonged to the same woman who lived and worked in the Portsmouth area during these years. These patterns are not especially glamorous examples of the style of their era. There are no designer names to be seen and there are no examples of evening or occasion wear. The 1970s patterns are simple tunic and trouser combinations or long, lean bohemian skirts. The patterns from the 60s are simple skirt shapes which could be made in any of the 4 key lengths of the decade: ankle, midi, regular or mini. The other 60s pattern is for a simple pullover dress with a choice of 3 different necklines. The single pattern from the 1950s is a wrap-around housedress and a dress with a matching housecoat. Although none of these particular patterns have been cut I imagine the lady who owned them made most of her own everyday clothing over these decades and prided herself on her dressmaking.
While checking that these items were complete and uncut I was amazed to pull out 2 letters from the 1950s housecoat pattern which had been carefully concealed within the pattern itself. They were stored neatly in their original envelopes (one of which is post dated 1977) and I pulled one out to see if it related to the pattern in any way. I was confronted with a love letter from a Dutch sailor, Piet, to his sweetheart, Pat. The first letter beings "My dearest darling Pat" and contains the telling line "I will not phone you anymore because Steve has arrived home". The second short letter was sent while Piet was at sea and he writes "I still cannot put you out of my mind" and that he "is waiting for you in Exter at the central station". Did she ever meet him again or was the affair over? Either way what better place could there be to conceal billets doux from your lover than in an old dress pattern? Her husband would almost certainly have never stumbled across these by accident and she always had them nearby as she did her sewing.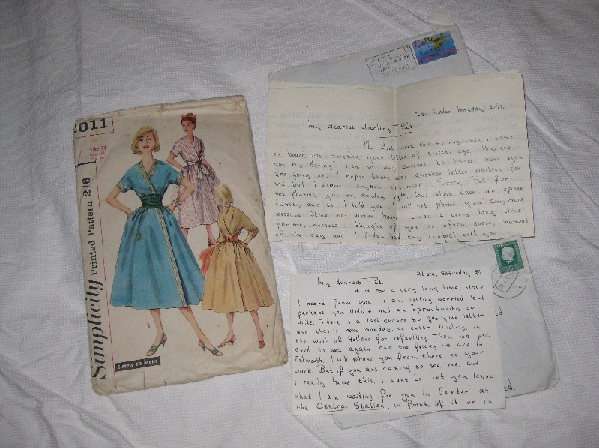 Simplicity or duplicity? This 1950s Simplicity dress pattern has concealed a lover's letters for over 30 years.
* * * * *
A selection of advertising plates, articles, covers and clippings from 1937 and 1938 issues of L'Illustration will be for sale in Maison Dumay at www.etsy.com from September. A range of dressmaking, knitting and toy patterns will also be available including the Simplicity pattern shown above which will still contain the 2 letters.
BACK