"You should keep it"

Even though things are moving ahead with our Mireval project I must confess I have become rather distracted with my own personal ambitions. I have finally taken the decision to open a shop and this brings me full circle back to the "girl" of 21 years old who desperately wanted to train as a retail manager and spend my working day buying and selling ladies fashions and kitsch in all its glorious forms. Many, many years later (at least 25) I can see the way forward and.... tah dah... I am delighted to introduce Maison Dumay.
Firstly I must say that I envisaged Maison Dumay as "la vie enchantée" (enchanted life) or "ma belle maison francaise" (my beautiful French house)" etc etc. But sadly all the names I had chosen for my shop had already been taken by fellow Etsy entrepreneurs and were consequently unavailable. As I tapped in random combinations my lucky name was based on "maison" (house) and Dumay (the name of the only shopkeeper in our village...!!!!!) and so Maison Dumay was born, in name only.
"Maison Dumay" has been a somewhat unplanned birth. It has been a combination of a moment of conscious decision (the golden formula of supply and demand appear to be synchronised) and the rather random process of sourcing stock which has involved combing vide greniers, brocantes and asking members of the general Ariège public if they'd like to sell me their bedding / kitchenalia / ancient magazines.... Astonishingly this appears to have produced viable retail material. At least I hope this is the case. I am going to have to wait until some point in September before I can fling open the doors of my (virtual) shop and see if there is anyone out there who actually wants to buy my wares.
I must admit I envisaged Maison Dumay as being an outlet for fine French household linens and items of esoteric interest. The reality of my buying regime has been somewhat different to these rather high ideals and although I have been enthusiastically snapping up some gorgeous French linens, I have also been acquiring some rather, now how can I describe these items, oh yes, BONKERS quite neatly sums it up.
"Shouldn't you buy a couple of high quality items?", suggested Jeff early on in my buying frenzy.
"But I need stock", I had replied.
"Shouldn't you sell some items first and then buy more?", he suggested, somewhat timidly
"Non, pas du tout", I replied, certain that I must accumulate stock IMMEDIATELY, before my scheduled 2 month sojourn in the UK.
He has remained taciturn during my enthusiastic ramblings about seamless stockings from the 1950s and 60s, he has remained impervious to my ranting about the historical significance of pre-WW2 magazine articles on Hitler and the Nazi party, and been resolutely indifferent to my droolings over 19th century ladies underwear. But he has, however, weakened somewhat about this quite incredible discovery.
"What is it?", I had asked the stall holder.
"We used it as a fish keep net", he answered, "But it is really a snail hunting basket"
And what a joy it is. It folds almost flat but when it is released it has an upper section into which you deposit your unsuspecting molluscs. They are then transported via a cunning sprung trapdoor into the lower chamber where they are trapped, unable to escape. Apparently snails are supremely well organised and could, theoretically, break out of most containers. This is specially designed to block their escape route and the cunning sprung trap door delivers them into the lower chamber without the prospect of escape. OMD (oh mon dieu!) this is a serious piece of equipment. Once Jeff appreciated exactly what the whacky green wire basket might be used for he said:
"You should keep it!"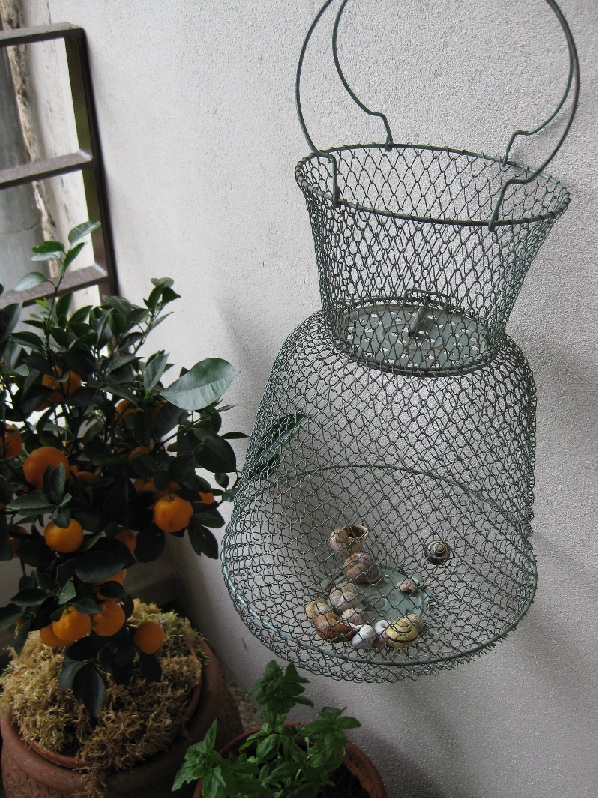 I promise that no snails were harmed during the production of this blog.
My main focus has been, unsurprisingly to anyone who actually knows me, to pass on the glorious textiles of this region to anyone who might actually be interested. To this end I have been enthusiastically acquiring cotton crochet lace, heavy linens and damasks, plus a few fine handmade items. I was extremely lucky the day I went to a local vide grenier and acquired a lovely, unused metis sheet. It had belonged to her grandmother the lady who sold it to me related. When I told this to Lizzie she said:
"You should keep it,"
And herein lies the problem. As I am only buying items that I personally adore I am now in the position of wanting to keep ALL my stock. I must be firm, I told myself. The metis sheet and snailing basket must be sold. I remained resolute during the laundering of this wonderful sheet and it was only when I was ironing it that I spotted a tiny tear. This makes it unsaleable. Oh well, tant mieux pour moi! I get to keep it after all.
* * * * *
Maison Dumay will be going live on
www.etsy.com
at some point in September. I will be selling vintage French household linen, kitchenalia, paper ephemera, brocante finds and vintage ladies accessories. Contact me at
nickie@nickieandjeff.co.uk
if you would like an advance list of stock.
BACK