Carottes (or why I love living in France)

When asked why we were moving to France I used to reel off the, to my mind, obvious attractions: a more relaxed lifestyle, better weather, gorgeous landscape etc. Having been out here now for several months I can categorically add another coup de coeur: the food. Now, I am a woman who loves eating, drinking and cooking but the real pleasure of food in France starts from the moment of first contact, be that in a supermarché, at a bustling local market or at the independent stall I discovered this week propped up against the wall of La Poste in the Place des morts, Léran. What a joy this stall is! It goes without saying that all the produce is locally grown, but it is the range of vegetables and the unusual varieties are so inspiring. This week I filled my panier with slender leeks no wider than my finger, mild pink spring onions, parsnips (I hardly ever see these in any of the supermarkets I frequent) and carrots. And it is these carrots that, for me, visually represent so many of the French values that are so refreshing. Fresh, local and affordable. Feast your eyes on these beauties.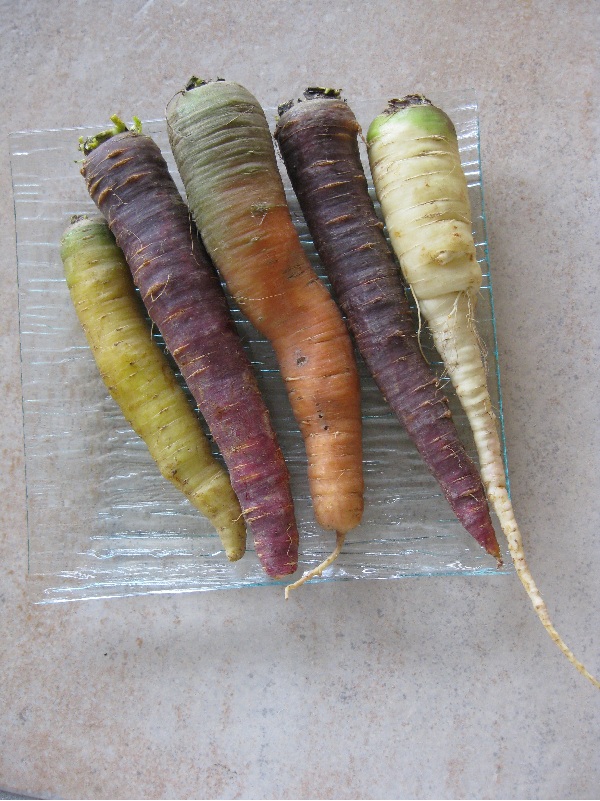 Yellow, pink, orange and white carottes
I had salivated as I watched Jamie Oliver a few years ago pulling up beautiful fresh carrots from his fecund garden then simply roasting them, but I must admit that this also made me quite grumpy. Where could I buy fresh, knobbly, colourful carrots like those on the South coast of Britain? The carrots on offer in British supermarkets were mainly day-glo orange and of uniform size, presumeably so that they could fit neatly in plastic punnets that they were almost invariably presented in. If I was feeling extravagent I could splash out on organic carrots or some immaculate miniature Chantenay carrots, which according to The Carrot Museum ( http://www.carrotmuseum.co.uk/atoz.html ) is an old French variety with large diameter roots up to 15- 20 cm long, or I might pay a premium for a bunch with the tops still attached. Whichever option I chose I recall they all shared one characteristic: they were invariably orange.

Having purchased these beauties I couldn't wait to use them. I decided to let them star in a layered vegetable bake with a cheesy gratin top (recipe below). I used my remaining regular orange carrot before selecting the white carrot and was struck by the differences. The white carrot was so hard I had to struggled to chop it and the smell... well, it smelled like a carrot and I cannot recall the last time I actually smelled a carrot. The supermarket orange carrot had no scent whatsoever but the smell of the white carrot simultaneously took me back to my childhood and tugged me towards my still unplanted potager. And the flavour? they taste as good as they look.

Vegetable gratin

2 thinly sliced carrots
1 thinly sliced parsnip
2 chopped shallots
1 finely sliced leek
1 large thinly sliced potato
Butter
1 clove of finely chopped garlic
Emmental (grated)
300ml milk (I use semi-skimmed)
300ml crème fraiche epaisse (I keep it light using légère)
1 egg
Breadcrumbs

I used the carrots as the first layer, dotted them with some butter and added some of the garlic, before sprinkling some of the grated emmental over it. I used the parsnip as the second layer, shallot and leek as the third, with a layer of potato on top. Small amounts of butter and lashings of garlic on each layer of vegetables. I beat the egg, milk and crème fraiche and poured it evenly over the veggies. Topped it off with fresh breadcrumbs and the remaining emmental. Baked for 40-45 minutes in a medium / hot oven.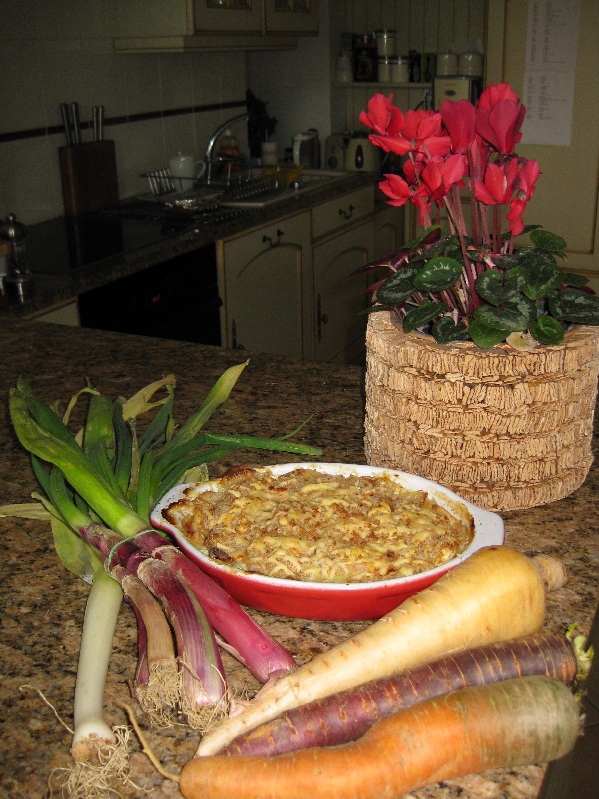 Cheesy vegetable gratin
BACK