C'est un problème – no. 2
Once again I have been musing over various options for my second C'est un problème blog but have settled on sharing my thoughts on the problems of owning a British car in France.
As soon as we arrived Jeff began mulling over the pros and cons of re-registering his beloved Saab 9-3. Apparently you should re-register a non-French car within 6 months of bringing it into the country and this deadline has been approaching fast. We have had the Saab for less than 2 years and if it came down a choice between me and this car I don't fancy my chances. Jeff LOVES this car (as any of you reading this who have travelled in it will realise). This has been the main "pro" in the "What car" debate. The "cons" on the other hand are quite numerous and can be briefly summarised as follows:
The steering wheel is on the wrong side. This is painfully apparent on virtually every occasion we use the car when we invariably get stuck behind a tractor / combine harvester / other large agricultural vehicle / camper van full of hippies. The problem is, of course, that overtaking in a right hand drive vehicle is much trickier and often impossible.

The cost of re-registering is high. There is a typically French amount of administration involved in this process and the headlight assembly has to be changed.

It has a low wheel base. This is a problem as we seem to travel everywhere with the car fully laden and this frequently results in the tow-bar grinding over the slightest bump-ette in the road.

And the clincher – we reckon it will be quite difficult to get up to Mireval in adverse weather conditions in the Saab. We really do need a 4X4 for this.
It is with great reluctance therefore that Jeff has decided it is time to part with Saaby and get a 4WD vehicle (yippee!!!). And so the lengthy process of choosing which vehicle to buy began. Jeff's first choice of a Frontera was greeted with silent disbelief by Eric, then laughter, then the puzzled question "But... why??". The Pajero was dismissed (too big, too thirsty, too uncomfortable for long journeys). The Freelander was dismissed (too expensive in France). All the Ssangyongs were dismissed for similar reasons to those expressed so well by
Top Gear
:
For a minute there they had us worried. You could see polo-necked clumps of proper car designers whispering in corners, wondering if ugly was indeed the new beautiful. Then the penny dropped. This is not some Korean epiphany, it's a bunch of very badly designed cars indeed. They're cheap, but if you buy one, so are you. (www.topgear.com/uk/ssangyong)
After much cross-questioning of his mates and reading every available car review Jeff decided an SUV is the most appropriate vehicle and the vehicle of choice is a Nissan X-Trail 2.2 dci. It has a long wheel base to accommodate all those building materials we'll be lugging around. It has 4 wheel drive so we can drive around our new garden :) It's comfortable enough to do those long trips back to the UK. It's a popular vehicle so it shouldn't be a problem finding one... should it?
So the search started in earnest. Eric too was on the case and he and Jeff would disappear to gaze at a computer screen, excitedly chattering about the relative merits of a low mileage older vehicle versus a newer, more expensive choice with bull bars, blacked out windows and leather seats.
"There's a great one just over the border in Belgium", said Jeff, "We could fly up to Charleroi and then drive back"
"I've found another one in Perpignan", said Eric, "We could go and see it on Saturday"
And so many hours passed in this manner. Gradually one factor became evident and that was that a good X-Trail would sell in a matter of hours. Eric's next suggestion was to drive around a few dealers and see if we could spot a good one locally and as luck would have it we spotted one at Foix (considerably closer than Belgium!). Initially Jeff wasn't convinced. He felt this particular car was overpriced and it didn't have all the goodies he craved (leather seats, cruise control etc) and so we walked away. 2 days later we saw this vehicle advertised on Le Bon Coin (like an enormous online Exchange & Mart and more popular and widely used in France than ebay) and decided to go to take another look and hopefully a test drive. In the interim we had done a 300km round trip to see 3 X-Trails and were shocked at the price and condition of everything we saw. We saw astronomically expensive cars with smashed-in bumpers, badly dented bodywork, foreign plates and mind-boggling mileage. The local X-Trail is looking like a positive bargain now.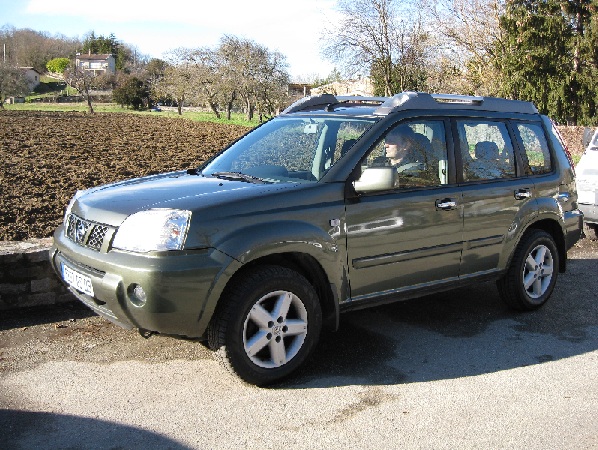 Man and machine in perfect harmony.
Luckily for us it has not been sold and it is a great car. Jeff is smitten.
"Do you like it Nic?", he asks, visibly holding his breath.
I do like it. It is the colour of Hunter wellies (you know the posh green ones with a buckle) and if it could talk it would have a West Country accent. It's practically camouflaged. It also has these really whacky headlights at the front of the roof rails which I imagine illuminating the ditches we will be hurtling into during all the off-roading we're going to do. In my mind this is a fun AND practical car. I love it. Jeff buys it.
We flash over in convoy to Foix to collect it a mere 2 days later. We fill it up with diesel and evidently I have a big grin on my face when I get out of the car.
"You like it Nickie?", asks Eric, rather unnecessarily
"It's the dogs..." I tell him.
Later when we rendez-vous back in Léran car park Eric asks Jeff what he is going to call it. And so dear readers, je vous présente "Pluto" because "he" (we think this is a boy-car) is the dogs.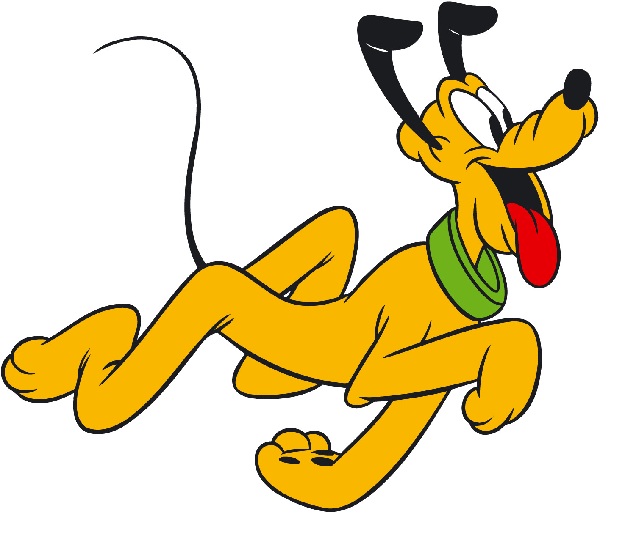 The X-Trail flops along like an enthusiastic puppy. Bienvenu à Pluto. (image nicked from www.allmystery.de)
We are (temporarily) a 3 car family.