Christmas in Camon 2010
It feels like we have been talking about this Christmas since January 2010 which was when Jeff set his heart on having all his family share Christmas 2010 with us in our new home in Camon. The problems started almost immediately when his eldest daughter Debbie declared she would not be able to take sufficient time off work to come to France with grand-daughter Katie. Disappointing, but this still left his youngest daughter Sam and her husband Dan and Jeff's mother Edna committed to coming over. Flights, taxis and airport transfers were duly booked at the UK end and the house was made ready, decorations put up and massive amounts of festive food were crammed into cupboards, fridges and freezers at the French end. Everything was set, all we needed were the family to appear. It got cold in Britain. Then it snowed in Britain. And it snowed some more. Roads were treacherous. Schools shut. People froze to death in their gardens. And the airports closed. Heathrow was crippled but more importantly to us there was severe disruption to flights in and out of Gatwick just as Jeff's family were scheduled to travel. There was saturation coverage of the weather conditions on television and we faced up to the very real possibility that they would not be able to fly (we were concerned they would not be make it off the Isle of Wight!).
Their journey started early on 21st December with the road journey to the ferry terminal. Having successfully arrived on the mainland and located their taxi they arrived at Gatwick early. Fortunately their flight had not been cancelled and they checked in and waited. And waited. After a 2 hour delay they arrived at Toulouse and waited a further hour to disembark the plane and collect their luggage. 3 hours late but they made it here hurrah! The relief was huge for many reasons. Jeff had been on tenterhooks for 2 days and was obsessively scanning the internet for any information. He tracked the previous days flights out of Gatwick for an early indication of potential disruption. He started following Gatwick Airport on twitter (I know, some of us follow Jonathan Ross, Mrs Stephen Fry and the NASA astronauts) and his first ever furious tweet was "Gatwick at a critical time your live flight info is not available". He followed live flight departures from Gatwick plus scheduled and actual arrivals at Toulouse. He discovered the rather worrying facility to track aircraft during their flights. Even though the information has a 15 minute delay I couldn't help but wonder if this is an invaluable tool to terrorists. I try to rid the image forming in my head of a geeky young man sat in his bedroom in Leeds with his ipad blowing planes from the sky. "He was such a quiet lad", "Seemed a bit of a twit, never had a girlfriend, but always said hello" his neighbours would say to the news reporter. This level of information worries me so I go for a walk returning an hour later armed with branches of sweet bay, strands of ivy and berry-less holly to scatter around the house.
"They left Gatwick at 15:18, let's get over to Blagnac" grins Jeff
Phew! The relief is immense. We won't be home alone this Christmas wondering what to do with the following:
2 turkeys (yes I panicked that Super U would not honour the dinde order)
1 gigot d'agneau (leg of lamb weighing in at 2.5 kilos)
1 duck (weight over 3 kilos)
2 whole salmon
2 chocolate yule logs (Sammy likes her chocolate)
1 massive ice cream dessert shaped like a bottle of champagne
Copious amounts of fizz, rosé, white and red wine
1 giant cracker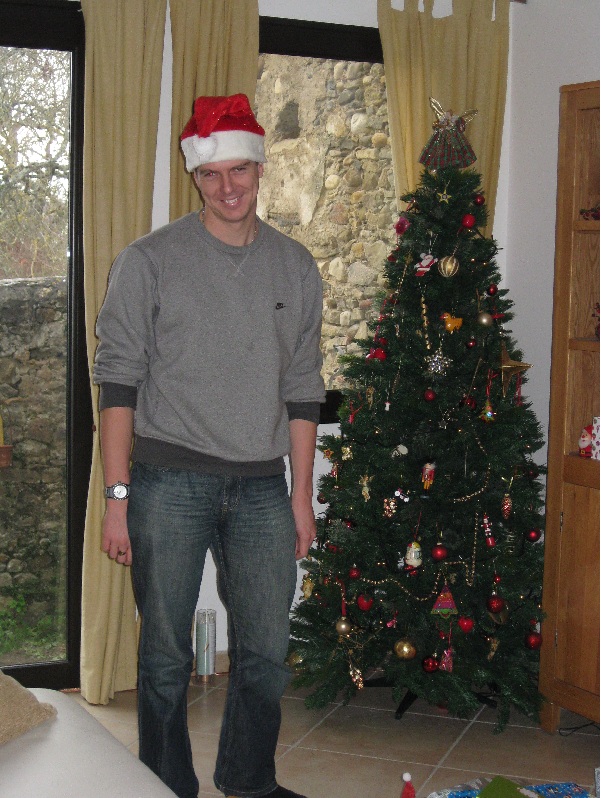 Dan is sporting the Santa sorting hat and does sterling work distributing the pressies on Christmas morning (photo by Nic)
Well you get the idea. We would have been having an impromptu party for the entire village if they hadn't made it.
And the icing on the cake is it is a white Christmas here too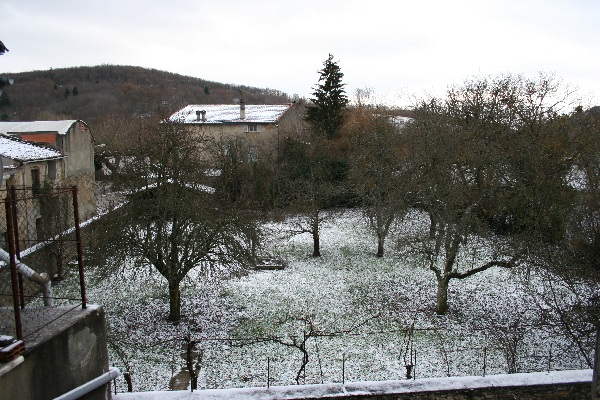 A fairytale white dusting of snow on Christmas morning in Camon (photo by Dan)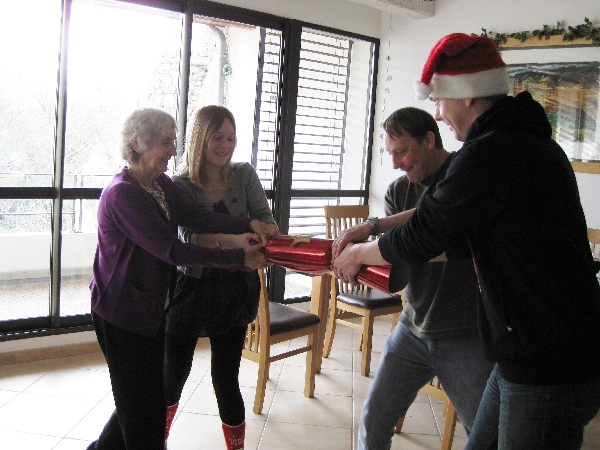 The giant cracker puts up a good fight but is eventually vanquished
(photo by Nic)
Bonne ann
ée tout le monde – Happy new year everyone