The Architect's vision
We didn't actually have to wait long for Mr V's sketch scheme for Les Granges, in fact we received them in less than a week after we completed the purchase.
Our brief had changed slightly since our meeting as we had decided for various practical and rather boring reasons that we did not wish to create a gîte but would prefer to incorporate the space into our main house. We had arranged to meet him at La Maison aux Symboles in Camon because we wanted him to see elements of the design, specification and finish that we especially love. We were naturally hoping that his layout for Mireval would echo the Camon house and cunningly incorporate an impressively extravagant staircase, an open-plan kitchen / diner and that hotly-debated but hard to actually define "wow factor". In addition, we stressed our rather titchy budget, talked about restoration and the importance of a sympathetic treatment of the buildings and our shared commitment to creating a comfortable, affordable and sustainable home environment. Oh yes, and then there was the practical outdoor space which could be used in summer as well as winter and the maximising of the sweeping views. Then, of course, we require 4 – 5 bedrooms 2 of which should be ensuite, an office space, a large living room with woodburner, a workshop for Jeff, a large bathroom with freestanding bath and walk-in shower, a quiet reading space for me with lake views etc... Well he is an architect isn't he? Maybe a magician would be better equipped for this task-ette.
We were thrilled when the layout plans popped into Jeff's inbox on 2nd December. Mr V's layout is deceptively simple and bold. It totally embraces all the elements we have been dreaming about for 6 months now. I'll hand over to him to describe his inspired design:
it's the view that really makes the property at the moment, so I wanted to build on that and bring the view into the house as much as possible. To this end I've placed the stairs centrally as this is the most efficient way of using the space, with a well-lit entrance hall and the main flight rising to a small seating area with a large window overlooking the view: the stairs at your current house really inspired this: I love the way they invite you to climb them.
I have put the kitchen and dining room at the 'new' end so you have the dining terrace directly off the kitchen. This puts the sitting room at the lower level, which I again like as it feels right to settle down into it with its fireplace. I have however ensured this room also is well-lit with the view brought in to the space.

Upstairs I have tried to distribute the rooms so they are are well proportioned with light brought in to the circulation areas. I see the stairwell dramatically rising to the roof, with the bedrooms themselves having good height ceilings, though not over-high so they are cosy in winter.
Several weeks later we are still appreciating the subtlety of his scheme. He has effectively positioned the outdoor space away from our attached neighbours and away from any shading structures (this will allow my fantasy pool to be heated by the sun earlier in the year). The scheme only lightly touches the fabric of the buildings: wherever possible he has used existing openings and maintained existing floor levels. A doubly whammy here – the integrity of these agricultural buildings will remain largely intact and it minimises the conversion costs.
See Mr V's layout at http://www.nickieandjeff.co.uk/mireval/mireval.html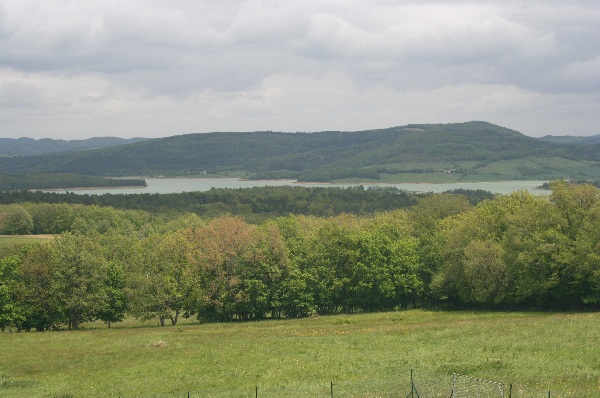 "it's the view that makes the property at the moment" (Mr. V., 2/12/2010) He's not wrong. This picture was taken in May 2010 from the first floor of the stone house