What have we bought?
Apologies for the lack of updates on the Mireval project. I have no excuse apart from the inescapable fact that very little has happened on this front over the past few weeks.
We bought the bien that we now refer to as "les granges" (the barns) on 24 November 2010 and celebrated the completion with our friendly immobilière and a bottle of Blanquette de Limoux (a very acceptable local sparkling wine which to my unsophisticated palate is indistinguishable from Champagne... happy days!). I admit I was slightly disappointed that the vendors were not present as I would have relished the opportunity to look them both in the eye and ask exactly why what should have been be a straightforward and quick process has taken over 6 months. Ah well, we poured over the documents, plans and reports which specified what we were on the brink of purchasing and then initialled and signed the completion document. We both silently gulped at the receipt for the not inconsiderable amount of money we had handed over for les granges (or should that be for a pile of stones and a bit of field).
"What have we done?" I asked Jeff, "and what, exactly, have we bought?
We hoofed over to Mireval the following day to inspect our prize.
"They haven't cleared the rubbish away", moaned Jeff
"Wow... there's treasure here. I've checked with Lizzie and its all legally ours now", I replied, suppressing a smile. Well one man's hamburger is another man's steak (or something like that)
"Great", replied Jeff unenthusiastically.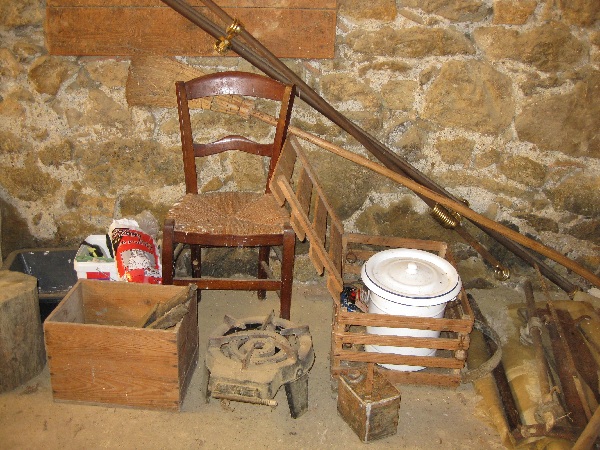 Un burger ou un steak? Curtain poles, oil can, gas burner, enamel pot, handmade wooden crates, agricultural tools and 2 beautiful day beds. C'est le trésor n'est-ce pas?
At this stage we had not had the sketch scheme from our architect. Until this is agreed we cannot lodge the planning application so this left us with nothing to do at
les granges
apart from gaze at the treasure and clear the rubbish. We do know, however, that we are the proud owners of 2113 square metres of grass and stones so surely we could at least fence our land. Yup, that's the theory. There's just the small issue of which 2113 square meters are ours and exactly where the fences should go. Hmmm, we have plan on paper showing the renumbered
parcelles
of land which belong to us but standing here on "our" land there are no visual points of reference to indicate where these boundaries should be. Once again we have to ask the ever-accommodating Lizzie to do some detective work to find out which G
é
om
è
tre (roughly equivalent to a surveyor) would have redrawn the plans when the property was divided. Several phone calls later she has tracked down Mr White and made us an appointment to meet him.
The first surprise is that the meeting takes place at Mr White's home. We are shown into a study by his wife / secretary who efficiently extracts our file from one of the cartoon-like towering piles of papers, plans and files. The second surprise is that, despite his name, Mr White is a colourful man. At first sight his dark steely grey hair and demi-lunette glasses suggest a formal, reserved personality but this is offset by his lurid red pullover. I also find myself gazing in fascination at his right hand which is liberally encrusted in the bright orange paint he uses to designate boundaries. He is seated behind an enormous L-shaped desk which effectively partitions the room and I cannot help but wonder whether this is concealing more splashes of colour – jauntily patterned socks or outrageous slippers perhaps. He moves rapidly on to business and asks us for the numbers of the parcelles we have bought and proceeds to draw around the boundaries on his plan in red biro. I watch in fascination as he retracts the red biro element in his pen and replaces it with a green biro with which he marks Willy and Valli's land. He is slowly marking the boundary of our French neighbours' land in blue biro when he asks us exactly what we own. Lizzie, Jeff and I exchange glances and point to the red boundary.
"Who owns this parcelle?" demands Mr White, jabbing an orange finger on a barely visible strip of land between our land and our French neighbours which can be no more than 1 metre wide.
We each give an impressive Gallic shrug complete with blowing out cheeks and hand gestures which communicates more than any words ever could that we don't actually know. We are pretty certain that we haven't bought this strip so assume that it must belong to the neighbours.
"It should belong to you", says Mr White, indicating that it should belong to the bien on the right (ours), not the left (theirs).
Could it be possible that it still belongs to the previous owners? Should it belong to us? Does it, in fact, belong to our French voisins?
Until we have clarified this point he cannot possibly accurately mark out our boundaries. There is more detective work to be done before we can even put up a fence.
It appears that we really don't know exactly what we have bought.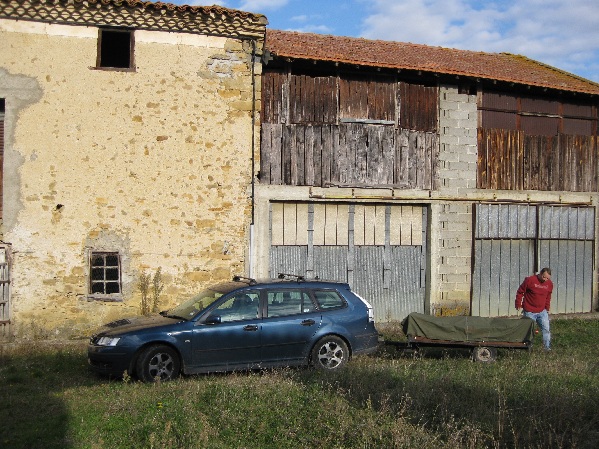 This bit of grass has got to be ours, hasn't it?