Le Beaujolais nouveau est arrivé
So proclaimed the bright sign above a stack of haphazard, half-emptied wine crates in the middle of the floor of our local supermarché. An elderly couple were busily cross-questioning a shop assistant about the characteristics of the 2 wines on display, Gaillac primeur and Beaujolais nouveau.
"what are the dominant fruit notes? Citrus? Banana? Lychee?!?"
"is it good enough to keep until after Christmas?"
"has it been an exceptional year, as the experts are saying?"
"has it nearly sold out?"
Naturally my curiosity has been aroused and I pick up a prettily painted bottle decorated with an eye-catching fruit design. This bottle of wine is extremely reasonably priced at just over 3 euros and there are still a few bottles of the more expensive Georges Duboeuf Beaujolais nouveau with its colourful red, white and blue abstract design on the label and foil. The couple have finished grilling the shop assistant and are now rapidly filling their trolley with bottle after bottle of the purplish-pinkish new wine. I instinctively grasp my bottle tightly to my chest and try to attract Jeff's attention.
"OK", he says, "let's try some of each" (there is red and rosé on offer).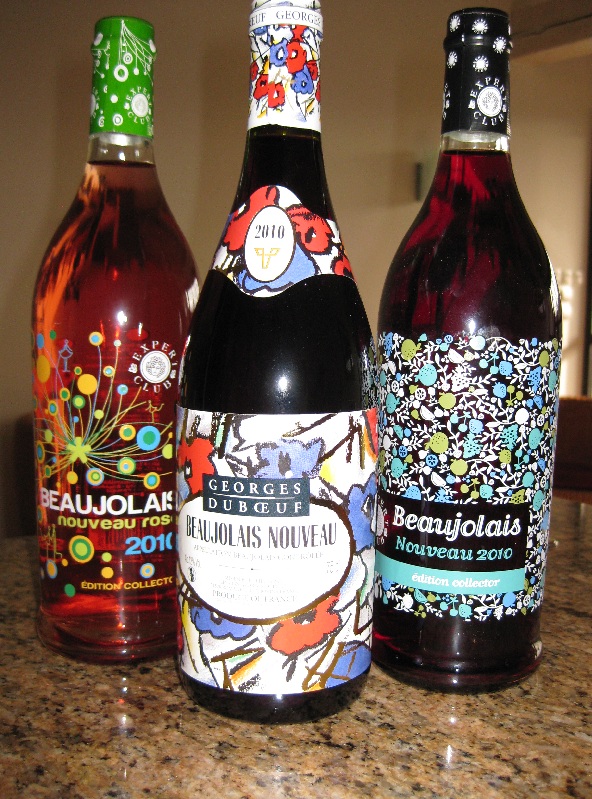 Beaujolais nouveau is released on the third Thursday of every November at midnight amid much ceremony and media hype. It is a young wine made from Gamay grapes which have been aged for a mere six weeks before being bottled. Beaujolais is produced in 72 villages in a region south of Burgundy. The wine is meant to be drunk immediately (many believe it should be consumed before Christmas) and it is generally felt that it should not be kept for more than a year at most. Many traditions have developed all over France in honour of the release of the most famous of the "vins de primeur", with the biggest festival taking place in Beaujeu, the capital of the Beaujolais region. The town hosts a party called Sarmentelles (named after sarments de vigne which are burned prior to the grand midnight unveiling).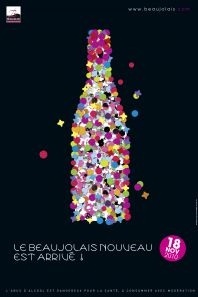 Le Beaujolais nouveau est arrivé promotional poster
(taken from http://www.ladepeche.fr/article/2010/11/14/947805-Lancement-du-Beaujolais-Nouveau-2010-jeudi-a-minuit.html)
Beaujolais nouveau is not without its critics however. Some regard it as being of variable quality, over-hyped and little more than a slightly fizzy grape juice. In fact FrenchTribune.com reported that sales have almost halved in the past five years to around 36 million bottles in 2010. Large scale media events like the Beaujolais Run, which is in its 38th year and was flagged off by Nigel Mansell OBE at Brands Hatch this year, appear to be having a negative effect on the wine's popularity. It is quite surprising therefore that 2010 has been hailed as a good year. Bertrand Chatelet, directeur de l'Institut de recherche dédié à l'étude des vins du Beaujolais, has described the cuvée 2010 as "très aromatique et colorée avec des dominantes de fraise des bois, framboise et groseille". I have to report that we were quite impressed with our bottle and returned the following day to purchase a few more bottles only to find that Intermarché and Super-U had completely sold out. Beaujolais nouveau est arrivé et parti... We're going to have to go on our own Beaujolais run a bit earlier next year!