C'est un problème – no. 1
It was always my intention when I started writing this blog to write about problems we face in our new lives in France and, hopefully, about how we overcome these. Having already dealt with many of the initial obstacles like setting up a French bank account, buying a house, buying a French car, arranging insurance and making the permanent physical move to France I was hoping that there wouldn't be too many of these blogs to write and I'm happy to say that so far there haven't been. Strictly speaking, the first "c'est un problème" blog should have chronicled our recent car accident but I covered this in the "un accident est un accident" entry. This means the first "c'est un problème" blog is going to tackle the weighty issue of clothes shopping.
When we moved here we brought most of our worldly goods with us, including our respective wardrobes. The problem for me has been that having lost a large amount of weight this year (I don't mind sharing with you that this is now 39 pounds / 2 stone 11 pounds / 17.7 kilos) most of my clothes no longer fitted and were redistributed via charity shops in the UK or given away. I had managed to replace my summer clothes before coming to France but was not able to amass a new winter wardrobe as warmer clothes were not available in British shops in June. As the temperatures have now dropped considerably I'm faced with the problem of not having enough warm clothing. And so the attempt to buy clothes in France began.
My first ports of call are the boutiques and small shops in Mirepoix and Pamiers. I have very limited success as most of the clothes are too fussy for my taste and generally too expensive. I can't fail to notice that the French seem very partial to chains / bows / beads / zips / embroidery and sequins on EVERYTHING. My next idea is to investigate the offerings available in the larger supermarkets. I try Carrefour, Intermarché and Super-U and, although the clothes are markedly cheaper, the quality is poor and the design is still pretty suspect. I have also been looking at clothes stalls on markets and, as I observed in an earlier blog (Sunday market at Espéraza), it is highly unlikely that this is going to fill the gaps in my wardrobe.
I had some success in the UK buying gorgeous designer clothes off ebay.co.uk and other British clothing websites but sadly this is no longer a practical option due to the high cost of international shipping and many vendors' reluctance to ship overseas. Ebay.fr is not nearly as large as ebay.co.uk and obviously it does not offer the same potential to buy my favourite British labels. Back in the UK I also managed to buy the occasional item from charity shops but these are very scarce in France. The only one I have found is the massive Emmäus in Pamiers which sells furniture, household goods, electricals and linen as well as clothing. I could have purchased an impressive armoire, a grape press or a stuffed sanglier head but settle instead for a warm pair of hand-stitched leather gloves and a sheepskin hat. I'm still no closer to getting the jumpers, jeans or jackets that I desperately need. This is turning into a real problem.
A possible solution presents itself in an unlikely way. I find a letter stuffed into the letter box announcing there is to be a "Bourse aux vêtements" in the village salle de fêtes. Camon residents can register at the Mairie to sell their unwanted winter clothes for a nominal price to other villagers. The letter promises coffee and cakes and a convivial atmosphere. This local event could be useful in several ways. Firstly I might be able to reduce the volume of unwanted clothes I have stuffed into bin liners and earn some money. Secondly I might actually be able to buy some clothes cheaply. And thirdly I will meet and chat to some of the villagers I am not yet acquainted with. Oh yes, and there's cake on offer. It could be a very productive day.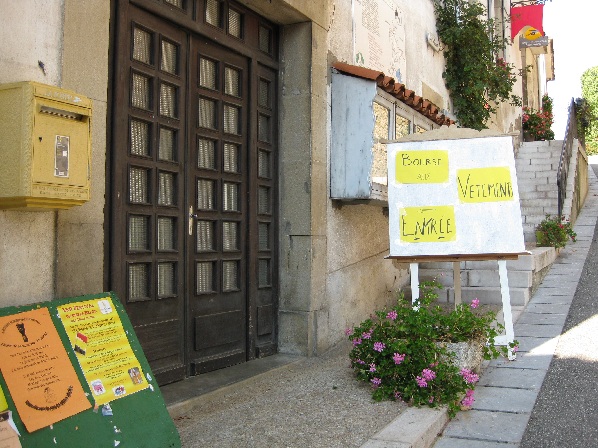 The doors to Camon's first Bourse aux V
êtements are closed for the 2 hour lunch break
I do meet, chat to and laugh with many Camonaises. I do sell a few items of clothing (my Levis and DKNY sweatshirt are pounced on immediately) and I raise the princely sum of 26 euros. I consume large amounts of coffee, home made cookies and scrumptious orange polenta cake. And I do buy some clothes. A sexy little pink and black silk camisole, a short pale pink satinised cotton skirt and an on-trend unworn summer dress in a startling retro print. I'm no closer to those chunky jumpers and warm jackets though. I foresee an emergency pre-Christmas clothes buying trip to the UK. C'est un probl
ème.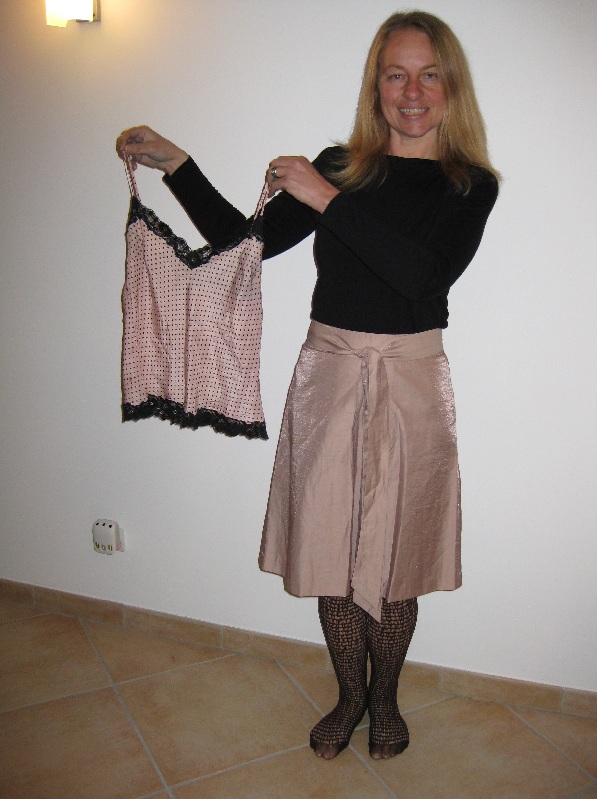 A very pretty polka dot camisole and sweet little skirt are not going to keep me warm this winter