Foraging in November
I had imagined that there is a "foraging season" during which all manner of wild and free foods can be gathered and enjoyed. I mistakenly thought this must surely closely relate to the fruit and vegetable season on the potager and therefore by this time of year (early November) there could not be anything worthwhile to collect from hedgerows, fields or woodland. In many ways I have been looking forward to taking long walks on these sparkling autumn days instead of the short forays to potential foraging sites that have become the norm. However it seems I will have to wait a little while longer for my grandes radonnées.
I had just scrambled up the muddy bank on the voie verte 2 days ago when I was surprised to see Juliette walking towards me. I say I was surprised because she is 83 years old and was walking briskly towards me clutching a small bunch of wild campanula. I told her of my success at making quince jelly and answered her barrage of questions about the colour (was it dark red?), consistency (did it set well?) and, most important of all, flavour (c'est bon?). I told her I was planning to walk as far as Lagarde and was hoping to find marrons (sweet chestnuts).
"You won't find any along here", she told me, "You need to go up through the woods behind La Besse"
Having memorised the precise directions she gave and heeded her warnings about electric fences, bulls and la chasse, I told her I would go the following day as I needed chestnuts to make stuffing for the Christmas turkey. So I struck off towards Lagarde and was almost immediately stopped in my tracks by the sight of mushrooms. There were mushrooms EVERYWHERE.
We have had a few overcast, rainy days followed by several days of warm sunshine and this has provided ideal conditions for mushroom germination. They have literally popped up overnight. The image below is of the mushrooms I gathered on this walk and I counted 7 different varieties (although there could well have been more).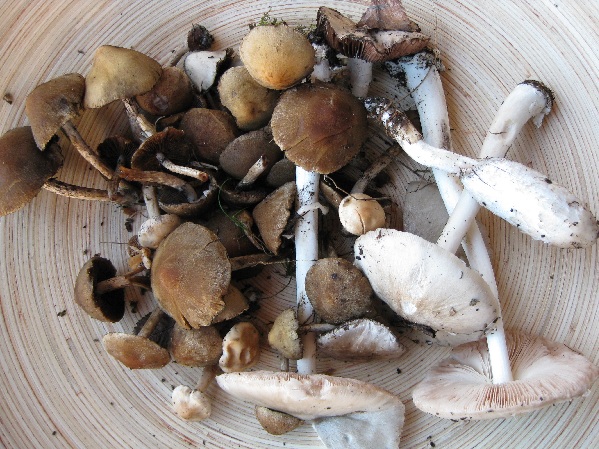 Sadly my Collins Gem book on mushrooms was not up to the task of helping me accurately identify any of these mushrooms. There were only 2 that I felt fairly confident were field mushrooms and therefore edible.
I also passed 3 clumps of these spectacular looking tiny mushrooms which were growing next to the path. I did not pick these ones!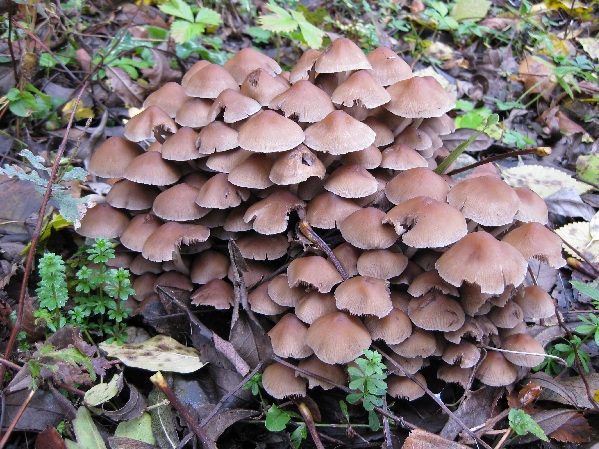 These tiny mushrooms (or are they fungi?) were growing at the path's edge, I couldn't help but notice that they were all close to horse droppings.
As I was walking back through the village I saw Juliette again talking to her elderly next-door neighbour and, of course, once again I had to show her the contents of my carrier bag. A look of concern crossed both ladies' faces followed immediately by the advice that I should not eat them until they had been properly identified. I told them I had a book (well, I do have the Collins Gem book of Mushrooms) but they had more advice to offer.
"Don't ask Aimé, much better to ask Daniel or Claude"
I made the mistake of saying that I don't yet know Daniel or Claude and then patiently listened to detailed instructions of how to find each of their houses and a long, long list of names of other villagers to whom these two are related. Phew, I thought, I'll just look in my book, after all I was fairly certain that the mushrooms I picked a couple of weeks ago were shaggy parasols. Unfortunately my book was not much help this time and I could not be certain whether any of these beauties were edible. So sadly it looks as if I won't be eating these ones either.
The following day I set off on my marron quest. I had already gathered about half a kilo of chestnuts from a small tree by the roadside and had followed the advice to suspend them in a net to prevent them going mouldy. They were rather small though and, having read about how laborious they are to prepare, I was hoping to find some larger specimens. Unsurprisingly Juliette's advice on where to hunt for chestnuts paid dividends and there were many mature chestnut trees in the steep belt of woodland interspersed with oak, beech and maple. Spiky burrs were liberally scattered over the deep leaf litter and many of them were open exposing the chestnuts. After initially placing every nut I stooped to pick up into my bag I restricted myself to only taking the largest, fattest nuts from the burrs. In total I collected 1.5 kilos of chestnuts in under 30 minutes and I still have tender fingers from their spikes!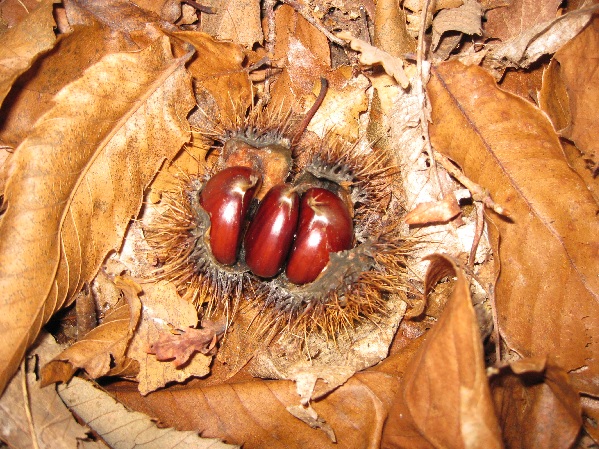 Plump chestnuts – I can almost taste that stuffing...