Time to turn the heating on
There has been an autumnal feel here for several weeks now with beautiful bright, sunny days interspersed with overcast, dismal ones. The mercury has been falling and it is noticeably cooler at night with temperatures down as low as 3 degrees. We have had a couple of frosts here but we were still surprised to see the first snow on distant mountain tops and after each spell of rain the snowline is creeping lower down the slopes. It's incredible to think that it will only be a few more weeks until the ski season opens. It is definitely time to turn the heating on.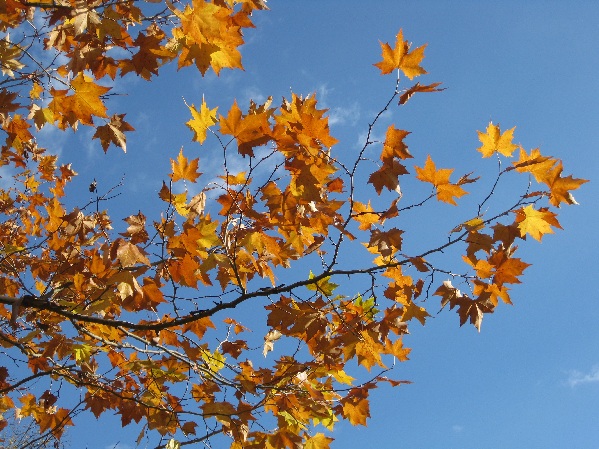 The autumn colour has been amazing but night-time temperatures are plunging.
La maison aux symboles has electric underfloor heating and after much debate we took the decision to switch it on. It's not a decision we take lightly as it is a very expensive form of heating*, indeed Paul M, who owns a house in Burgundy, once memorably compared the cost of heating his French house to fuelling a jet engine. It is not exactly instant heat either, in fact it takes at least 24 hours to heat the thermal mass of the concrete floors – brrr! We discovered these drawbacks after our first winter visit in 2006 and took the decision to install a poêle à bois (log burner) to supplement the heating on the ground floor of the house. Wood has got to be a cheaper heating source we reasoned.
The contemporary style and high quality interior fittings of our house dictated our choice of log burner. The cheaper more traditional models would definitely not enhance this house we decided. So we decided to purchase a Godin, "the Rolls Royce of French stoves", according to Rosemary Bailey. In Life in a Postcard: Escape to the French Pyrénées Bailey observes that her Godin wood-burning stove cost about the same as a Chanel suit. Like her I don't think I'm ever going to own a Chanel suit but now we are on the brink of winter I'm very grateful for the Godin.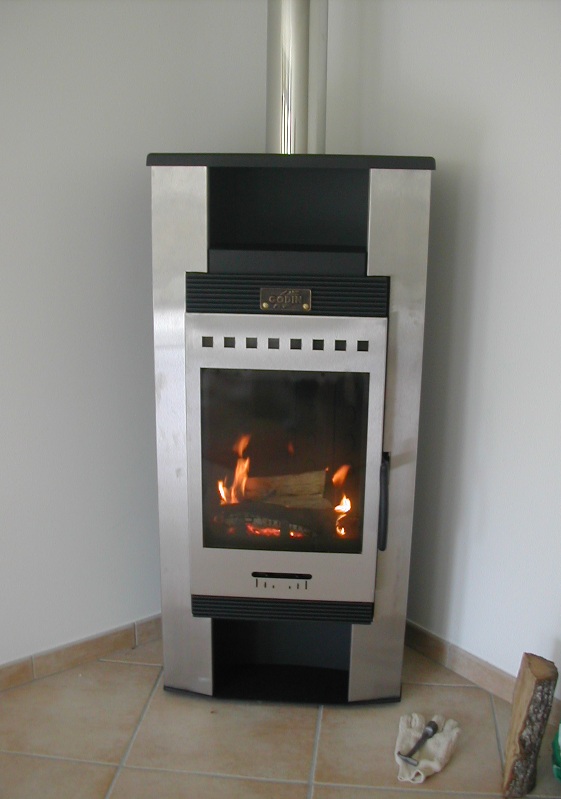 Chanel suit or Godin log burner? I think I know which one will keep us warmest
All that remains in our preparations for winter is to stock up on bois de chauffage (wood) and having done this one three previous occasions I do not forsee any difficulties. The first time was, I confess, a bit of a challenge. Issue number 1 was where do you buy wood from? I decided to ask Madame D, the owner of Camon's tiny alimentation which is 2 doors away from our house, if she knew anyone who could sell us wood. Indeed she did. It seems that her sister is the main supplier of wood in these parts, all I needed to do was phone her and order the wood. I should specify that delivery should be made to the back of the house using a wheelbarrow (as a tractor will not fit down the road at the back!) and should give the address as the "veille maison de Nénette". It seems that although our house does have a number, locals can only identify it by the names of the previous owners who were Camonais stock. Pas de problème. The wood was delivered and neatly stacked in our courtyard on the date and time specified. How simple, what could possibly go wrong next time?
I am reminded that I need to order wood this year when I see Malcolm and Pat taking delivery of "une pile" (4 cubic metres or stères) of logs, so I ask the delivery man if he could supply 2 stères to us. What length of log do we require? He asks. "comme ceux-ci, coupés en deux" I tell him. Again, the delivery goes without a hitch but I have managed to order the wrong log size. They are all too long to fit into our state-of-the-art log burner (which takes 33cm logs, not 50cm) and will all need to be cut. Each log, individually, one by one. And there are a lot of logs in 2 cubic metres. After initial disbelief Jeff is surprisingly calm when he realizes it will mean some butch new tools as this is clearly not a job for a junior hacksaw. Oh well, I'm going to have to wait for the Chanel bag to go on the Chanel suit I didn't buy.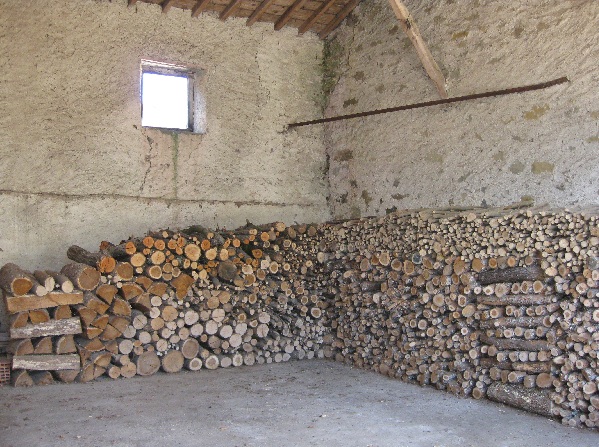 I would love to caption this photo "our log pile" but, sadly, that would not be truthful. Admire if you will the precision stacking, the grading of the logs and the reinforcing sections.
For the record the cost of this year's wood can now be broken down as follows:
Logs 110 euros
Chainsaw 130 euros
Sawbench with attachment to hold chainsaw 80 euros
*Jeff was most indignant about this statement, telling me it is inaccurate. His objection is based on his (informed) opinion that the cost of running the electric underfloor heating in Camon is probably the same as running a gas central heating system in the UK. My statement is based on energy costs in FRANCE. The table below uses figures from Energie Plus et Commerce compares the relative costs of different energy sources and clearly wood is the cheapest energy source.
| Energy Source | Price € | Unit | Price/kWh | Relative Cost | |
| --- | --- | --- | --- | --- | --- |
| Wood | 60 | Stére (1m3) | 0.026 | 1 | 450kg, 50cm logs |
| Natural Gas | 0.056 | kWh | 0.056 | 2.2 | Tarif B1 |
| Heating Oil | 0.62 | litre | 0.062 | 2.4 | 2,000l delivery |
| Propane Gas | 1,240 | Tonne | 0.097 | 3.7 | 1,000 kg delivery |
| Paraffin | 30 | 20l | 0.16 | 6.2 | 20l container |
| Electricity | 0.112 | kWh | 0.112 | 4.3 | kWh |
Jeff will be writing (at length,no doubt) about the heating system we will be installing in Mireval in due course.