Le projet – Mireval d'en bas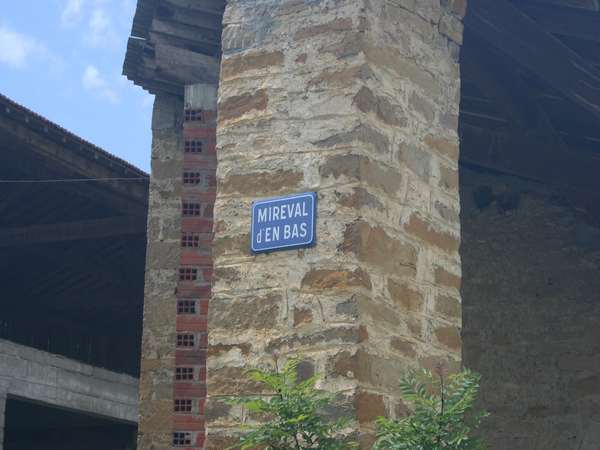 Almost as soon as we arrived in Camon in late April we began to think more seriously about our future lives in France and what we wanted to do. I know its come as no surprise to most of you that this involves undertaking another project. For once Jeff and I appeared to agree that this could involve buying a plot and building a house on it. I had a few requirements – views, garden with potential for vegetable gardening and fruit trees, a comfortable, eco-friendly house and a pool. Jeff also had a few requirements – parking for several cars / bikes / trailers etc, an eco-friendly house and a pool. So far, so good. We both started trawling the internet and soon spotted a building plot which was for sale through our immo-pal Lizzie, with panoramic views of Lac Montbel. Let's touch base with Lizzie and go and take a look we said to each other. Just a look mind you, because obviously we wouldn't buy the first thing we see like we did with Camon, no that would be pretty dim.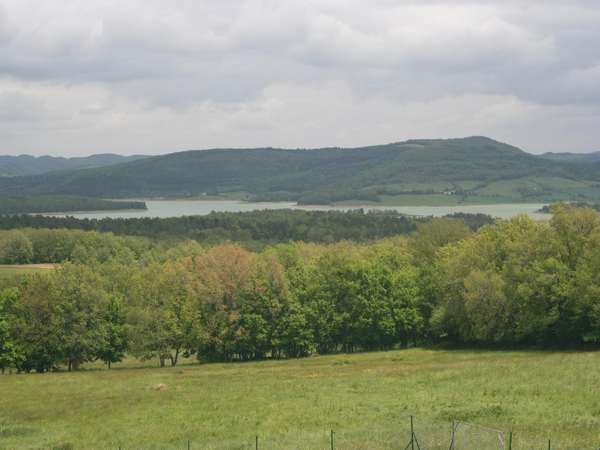 So the French-style of communication began. I sent Lizzie and email and got an immediate enthusiastic response followed by complete cyber silence. OK, I thought, I'll phone her. She didn't answer the phone. She didn't return my call as I asked. So, we adopted the Jeff approach, which is we know where she lives so we'll go over and knock on her door so loudly she'll think the bailiffs are here. Success! We get installed in her winter kitchen (yes larger French houses do tend to have 2 kitchens...) and ask her to show us the building plot. "Ah", she says "that is as good as sold. Could I interest you in 2 barns on the adjacent piece of land? I can run you up there now"
"No", says Jeff.
"Yes", says Nickie.
And so we get our first glimpse of Mireval d'en bas (Lower Mireval) and the, I admit it, rather unpromising looking buildings you see here.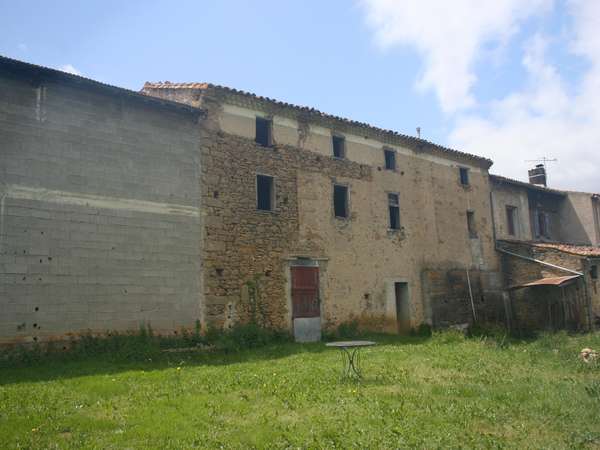 OK I imagine you're thinking its not much of a looker from the outside. Trust me, its worse inside! The image above is of the lake-side of the buildings and it comprises a modern block-built barn (left), a stone house (4 windows, 1 large red door) and a further small stone house (2 windows, 1 door). The rest of the property in the image belongs to a young French couple. Jeff is fairly quiet at this point (this is not a good sign), especially when he sidles up to me and says, trying to suppress a nervous laugh, "this isn't what we're looking for... is it?". Hmmm, I'm not really one to make snap decisions but based on what I've seen so far I'm inclined to agree with him.
Meanwhile Lizzie has opened the red door which leads into the main stone house. I'm sure I hear scurrying noises and spot dark shapes rapidly disappearing into the accumulated agricultural debris that is filling the space.
"Obviously it needs some work" says Lizzie, mistress of the estate-agent understatement.
She is not kidding. Dirt floor, stone walls held up by mangers and other animal feeders, ceiling held up by split tree trunks. There is a sturdy wooden ladder in one corner leading up to... well, who knows where. I'm not even sure if it has a roof.
"Mind your head", says Lizzie, determinedly scaling the ladder.
Jeff is holding back.
"I don't think I need to go up there", he says, "You go and take a look".
I do just that and this is when it happens.
I see this.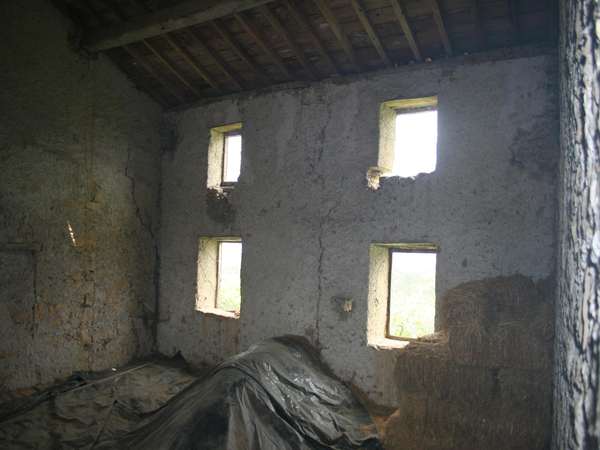 Yes that is straw.
No there aren't any windows.
Yes there is a roof but it is knackered (technical term for it needs completely replacing).
What you can't see from this image is the view – it is simply surprennant, incroyable. As they say here, this property is a coup-de-coeur (literally heart attack).
This is it. I'm smitten.
"Honey, why don't you come up here and take a look" I call down to Jeff while mouthing "I love it" to Lizzie.
Jeff reluctantly ascends, blows his cheeks out and expressively mimes "you cannot seriously think this is a good idea" when he spots my rapt expression.
"We can't do the work ourselves" is his opening salvo.
"No, we'll get a builder"
"I know one" says Lizzie
"We can't afford it" is his next shot
"Possibly not"
"You could phase the work and costs are much lower here" says Lizzie
"Well..." he's faltering now, "it's not what we're looking for"
"True", I say, "it is MUCH more thrilling"
"It's up-and-coming", says Lizzie, "I think of this location as 'Léran Heights".
"I want to go and look at some building plots" says Jeff, quite reasonably.
"OK" I say
"OK" says Lizzie, sighing, "I fear you might be disappointed though"
What she means is, of course, that I will be disappointed now with anything else.