Fête de la Citrouille, Bélesta
I'm quite excited about going to the Pumpkin festival at Bélesta for two reasons. Firstly, we had such a great time at Mirepoix's Apple Festival that I am imagining that all the local foodie celebration fêtes will be similar if not better. And secondly, I really love pumpkins. I find them deeply pleasing to look at and just love to eat them roasted, in soup form and in pies.
The Fête de la Citrouille is a three day celebration of all things pumpkin shaped and we decided to go on the second day, Sunday 31st October (appropriately this is Halloween). Even though the clocks had gone back the night before allowing us an extra hour in bed we still managed to leave Camon later than planned and I am continuously fretting that we will miss the procession of the confréries through the streets of Bélesta and the subsequent "intronisations devant la Mairie". As we approach the village we get snarled up in a traffic jam which is curiously reminiscent of anywhere, anytime in the UK and are at the point of reverting to stressed-out road rage Britishness when we see the cause of the traffic confusion. It is the procession itself which is headed up by a tractor towing a float featuring cold, bored kids crouched in front of a huge paper pumpkin covered in flowers. Needless to say we are both instantly entranced.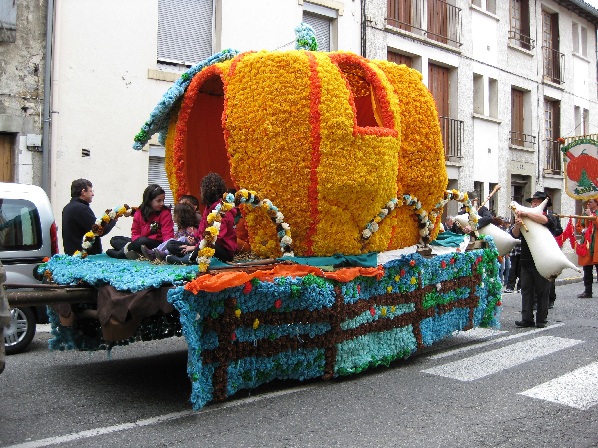 Pumpkin float heading up the procession of the pumpkin confr
éries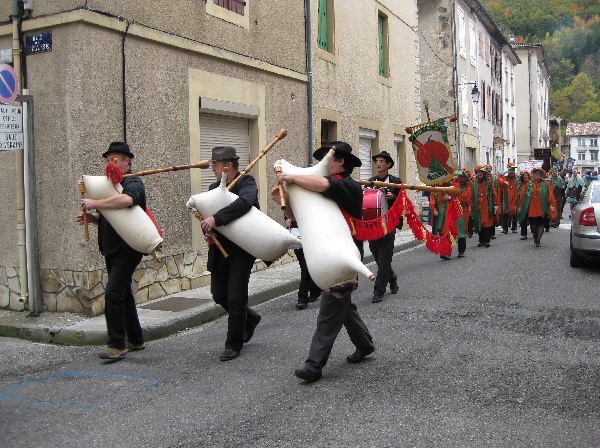 I especially liked the pipers playing what really look like inside-out goat bagpipes (yes, those are legs..)
Bélesta's main square has been taken over by a farmers' market and although this has many of the elements I expect to see such as stalls selling pumpkins, bread, fois gras and chocolate, as well as food vendeurs offering snails, aligote and paëlla, there is a noticeable lack of pumpkin dishes on sale. In fact I don't see any. I was hoping to see weird and wonderful confections like squash sweets, courgette cider or pumpkin patisseries. But sadly there is nothing. Not even pumpkin soup or pumpkin pie – rien du tout! There is only a souvenir stall (which I note features prominently on the website) that sells T shirts, posters, postcards, berets etc, but it has no information on the pumpkin varieties, local growers or recipe suggestions. I am slightly disappointed that the Fête de la Citrouille does not deify the pumpkin in the same way that Mirepoix's Fête de la Pomme glorifies the apple.
Ah well, at least there are many, many pumpkins to see in their natural state and the variety is truly amazing. In fact I am totally confused now by which are truly pumpkins and which are gourds or squashes. The mind-boggling display reminds me of the summer agricultural shows I used to attend in Yorkshire as a teenager. There are a few hollowed-out pumpkins transformed by children into fantasy landscapes as well as self-conscious displays of the biggest, heaviest and general best-in-class which are labelled with a post-it note proclaiming the name of the proud grower. Some varieties are labelled too and my favourite is undoubtedly "one too many" which has orange veins bisected by brown criss crosses.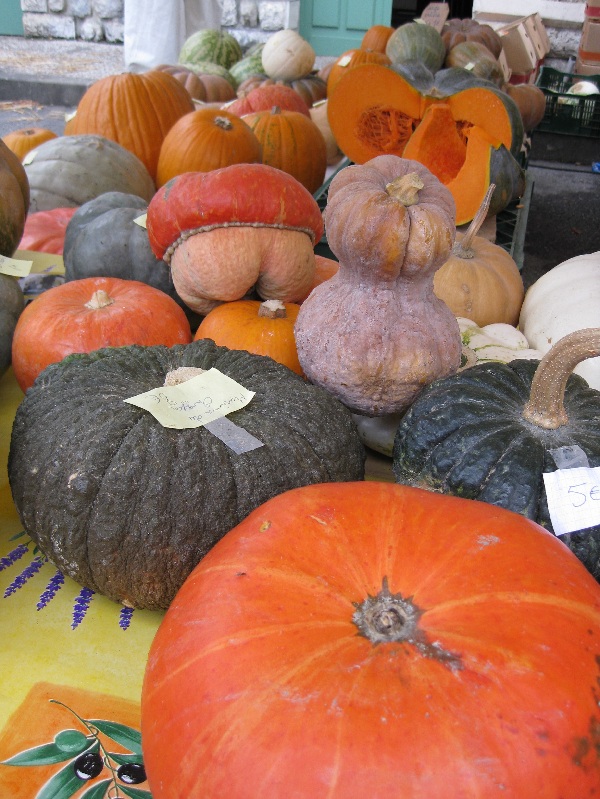 Are these all pumpkins? I think the large round orange and black ones in the foreground of this picture are pumpkins but I'm pretty certain that I can see an acorn squash and several other squash varieties here.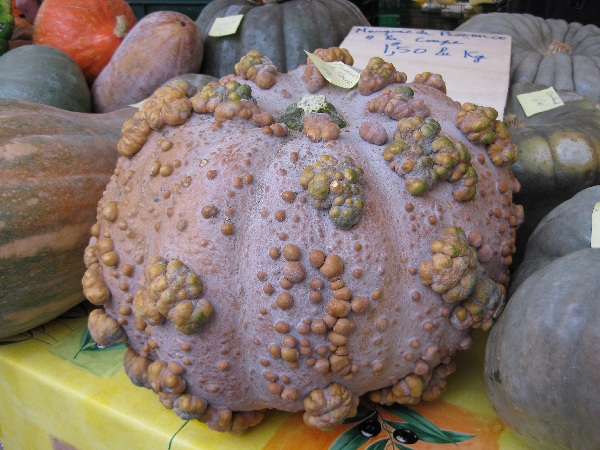 Only a mother could love this one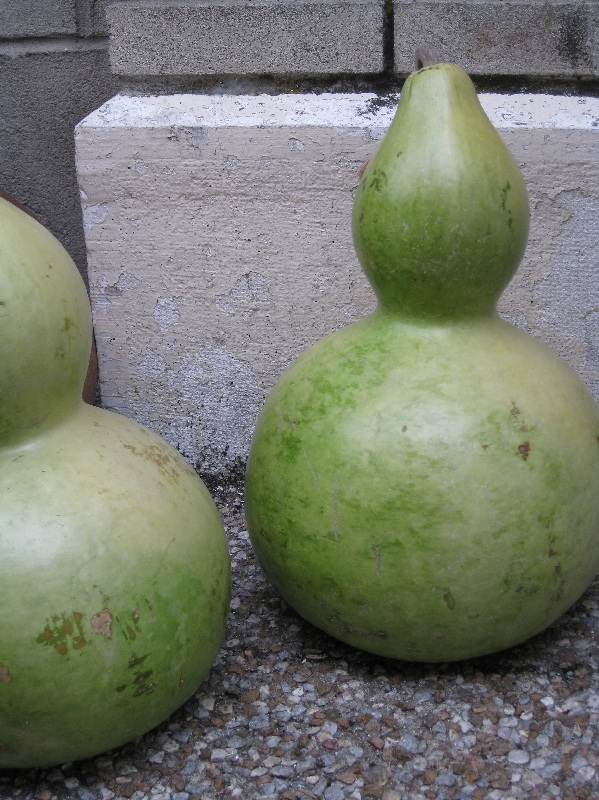 I'm reasonably confident that these are gourds. Correct me if I'm wrong!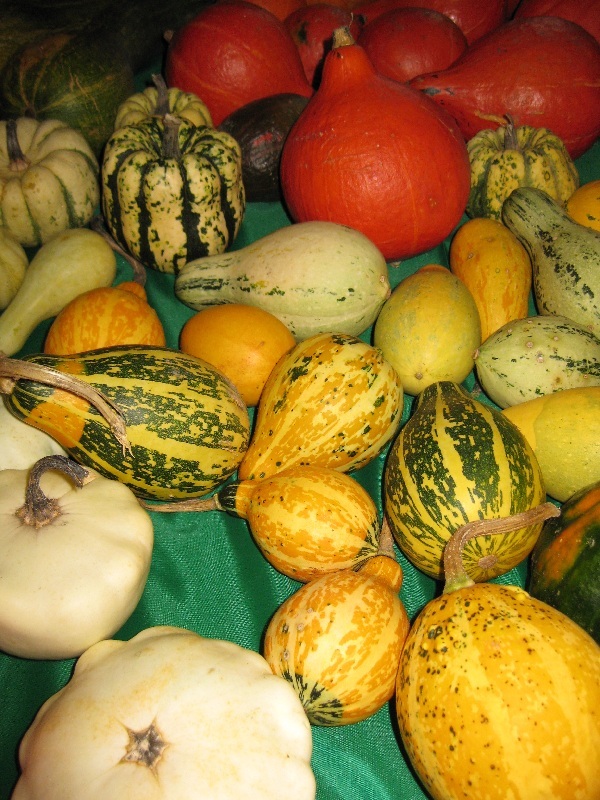 Squashes are, apparently, marrows. I recognise the white squashes in the foreground as being patty pans and am guessing the rest are also squashes...
As we are walking around the market area the procession has broken up and the members of the different confréries are mingling with the crowds, greeting friends and family and generally soaking up the atmosphere. They are truly resplendent in their thick wool capes – they're not stupid it's pretty parky today.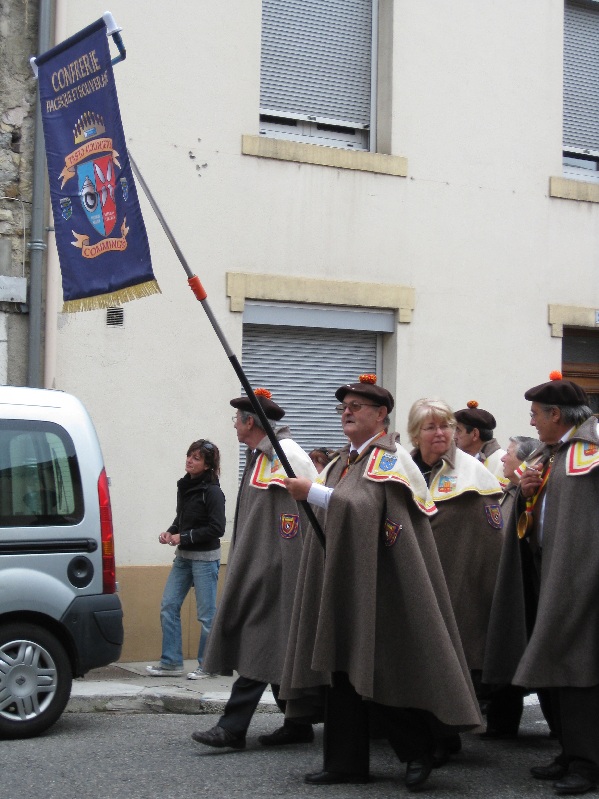 The rigours of standard bearing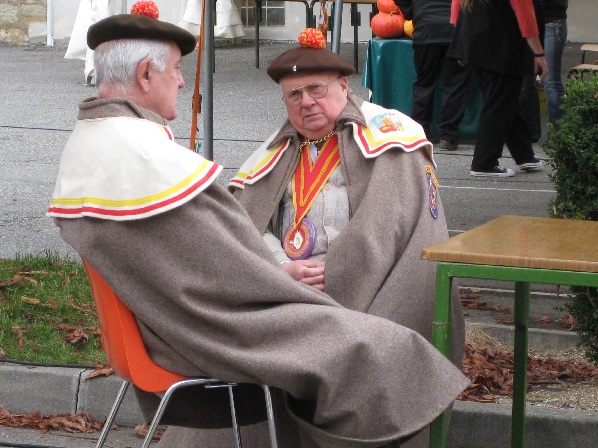 are followed by a few moments of relaxation
To round off the day we decide to visit Bélesta's medieval château. Passing under the low-key archway we walk past stalls selling woven baskets and fresh apple juice, pausing briefly to admire the ingenuity of a vine-covered pergola attached to the Jardin des Thés which is supported by 4 acro props. It does not bode particularly well for the condition of the interior of the château but we enter undeterred and are very pleasantly surprised. The rather camp attendant who sells us an entrance ticket (at a very modest 3 euros a head) jumps to his feet and theatrically gestures at different parts of the building telling us that it is "thirteenth century" with "sixteenth century" additions and that the renovation have been funded by the Rothchilde family. But it is not so much the renovations that entrance us but rather the large scale shabby chic. There are large areas of missing ceiling where the plaster has fallen away from the laths, uneven floors and walls and well-worn wonky stairs. It is absolutely charmante. A large hole in the floor has a pot perched in it to alert the public to its presence and this makes me smile because you could easily lose a child down there. A deep channel in the ground floor appears to have been worn away by water and we watch in horror as an American tourist trips on the uneven tomettes and neatly lands at the entrance to the dining room. She is unharmed but, once again, we can't help but think that if this was in the UK you would walk along a safe gangway with handrails and bossy signs alerting you to all the possible hazards you face and informing you that you are here at your own risk (in very small print of course). The château also houses a permanent collection of contemporary art which is prominently displayed everywhere.
We intend to return to Bélesta for the final day of the fête de la citrouille to visit the vide grenier. Better try to get up earlier for that.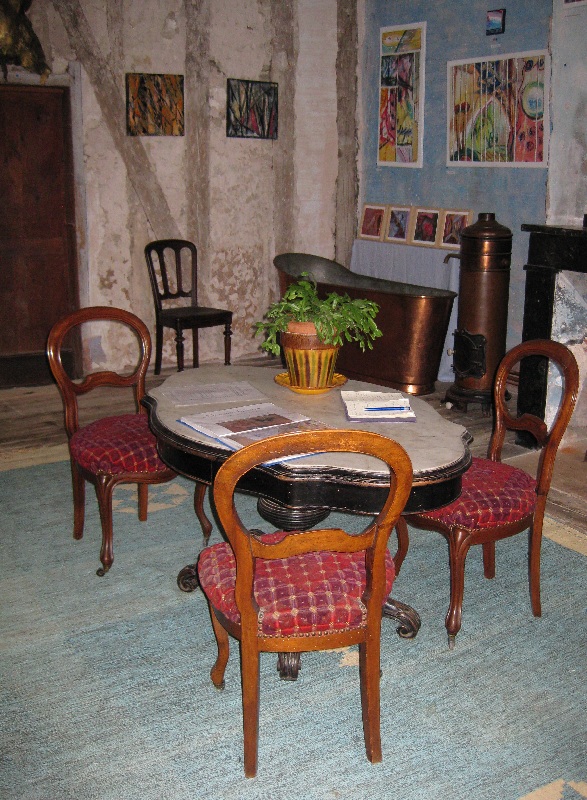 A copper slipper bath, dining table and chairs is juxtaposed against contemporary art in the medieval château at Bélesta. It really works for me!