More wild food
I do not set off walking now without at least one carrier bag scrunched up in my pocket. This is simply because I find I am unable to walk past trees, hedgerows and fields groaning with wild foods without pausing to harvest this free food. The sheer number of wild fruit trees means that I have only managed short walks lately as my ramblings have often been curtailed by a tempting fig tree or a handsme mature walnut tree.
After our delightful neighbour Aimé told me that he expected to be picking his figs within "une quinzaine" I contrived to bump into him every day, casually asking on each occasion if he would like assistance with his fig harvest. I was disappointed to peer around the corner of our balcony a few days later to see Aimé busily stripping the fig tree aided by three other villagers. Sadly it looked as if I might have missed the opportunity to produce more free jam. That was until I decided to walk up the steep side street out of Camon which goes to "Le Chiquet" and discovered an enormous wild fig tree dropping its fruit over the verge and road. Obviously I was unable to walk past this treasure trove and was forced to cram my jacket pockets with just under one kilo of oozing fruit because I had not taken a bag with me. My pantry now boasts four varieties of foraged jam: blackberry, plum, myrtille and fig. I'm hoping this will last through the winter until the summer fruits are ready.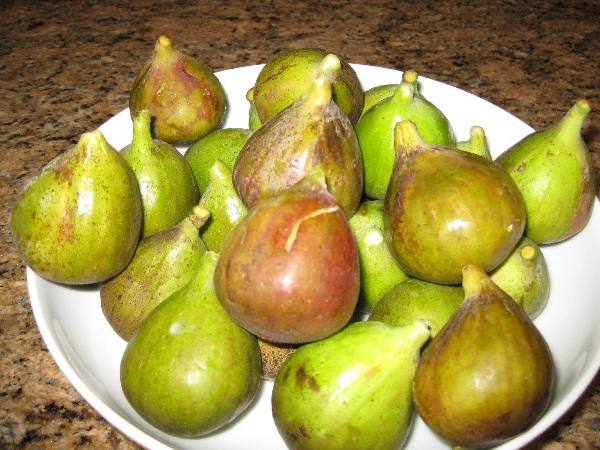 A bumper harvest of figs
I have been particularly looking forward to gathering walnuts this year and have been watching the leaves turn on roadside walnut trees, waiting impatiently to see the first fruits on the ground. True to form I was overly impatient and the crop I collected too early were undersized and unripe. Now however I have a kilner jar full of shelled walnuts and several bowls of whole nuts set aside for the Christmas nut bowl (well I'll be eating them anyway!). Walnuts are prolific in the Midi Pyrénées and are a common ingredient in local dishes. I left Mirepoix's Apple Festival with a recipe for apple, walnut and gorgonzola risotto and intend to bake a pear and walnut tart. I've already tried Jamie Oliver's prunes stuffed with cream cheese and walnuts and seem to consume walnuts on an almost daily basis in porridge, salad dressings, mixed with dried cranberries and sultanas, in a creamy pasta sauce and stirred through yoghurt. I'm sure they will make an appearance in coffee ice cream in the not-too-distant future. They truly are a welcome addition to the pantry.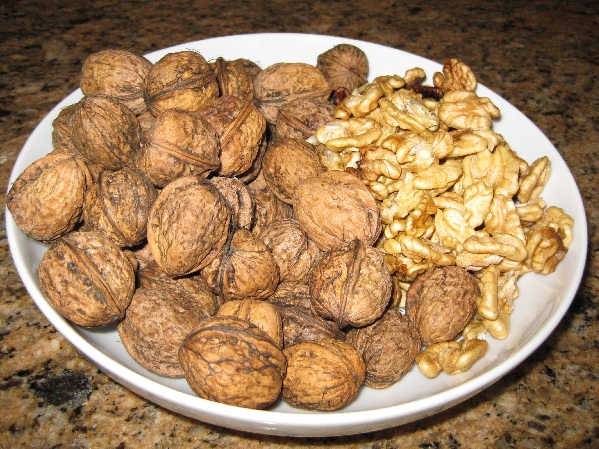 Whole and shelled walnuts
However I cannot claim that all my foraged foodstuffs have been as welcome as the plums, figs and walnuts. On a recent walk around Lac Montbel with Jeff and my mother I spotted the ultimate wild food prize – mushrooms. These particular mushrooms were growing on a gently sloping grass bank which was protected by an electric fence.
"I'm going to pick them", I told Jeff, "Can you and mum act as lookouts. Make an owl-call if you see any rozzers"
A couple of minutes later I proudly showed them my swag.
"How do you know they're edible?", asked Jeff
"I don't", I replied, "I think you can take them to a Pharmacie to have them checked and I've got a mushroom book at home"
Plus tard... à la maison... I am fairly confident that they are shaggy parasols and my book tells me that these are edible (although it does note that some people may suffer digestive upset and skin rash). So I announce that I intend to eat them. Fried quickly in butter on toast or in an omelette. This is too much for Jeff who tells me that this is a rather poor decision as they could be stinking parasols and these, according to my book, are POISONOUS.
"I'm not taking you to the clinic if you get ill", snarls Jeff.
Mum is quite quiet. "You could get them checked tomorrow in Mirepoix then have them for lunch" she suggests, diplomatically.
As the introduction of my mushroom book states that "Beginners must on no account gather wild fungi to eat unless they have been correctly identified by an expert", mum's advice is quite sound.
SIGH. I give in. I put these beauties into the bin just in case they are shaggy parasol "lookalikes" and are in fact poisonous.
I truly hope to pick and eat wild mushrooms in the future. Hopefully I'll be fortunate enough to spot the more easily identifiable varieties like ceps or chanterelles. In the meantime my final foraging quest is to locate a sweet chestnut tree so that if we do manage to get a whole turkey for Christmas I can make chestnut stuffing.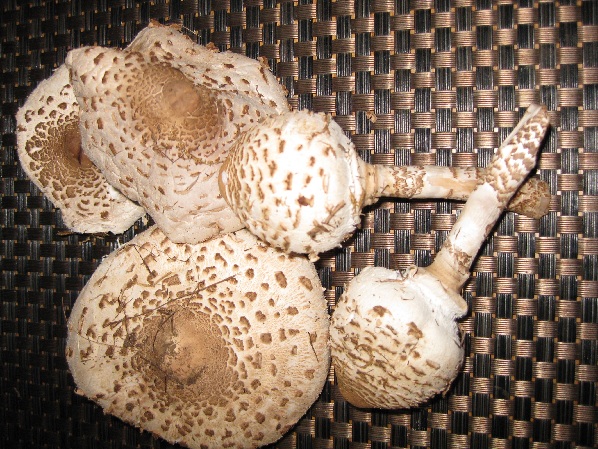 Shaggy parasols or evil "lookalikes"?