13th Fête de la Pomme, Mirepoix
Surprisingly it is my first visit to Mirepoix's annual Apple Festival. Jeff has managed to go on two previous occasions and has always raved about the towering apple sculptures (he was especially impressed by a scale model of Ariane), the vibrant atmosphere and the enthusiastically delivered if somewhat incompetent live music. So I am really looking forward to the experience even if the weather is overcast and rather chilly.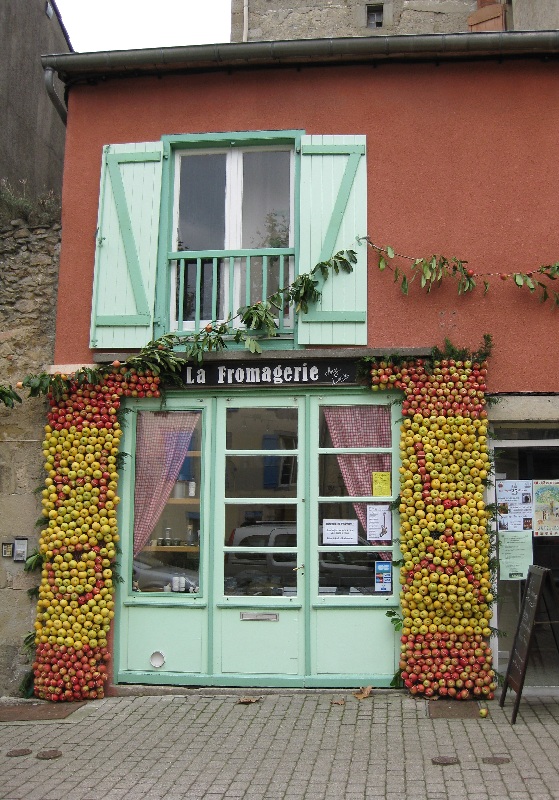 La Fromagerie vous dites "Holà"
Our first glimpse of the ubiquitous apple theme is the decorated facade of a cheese shop in the walls of the cité. The friendly greeting "Holà" spelled out in apples gives us a clue to this year's theme, so we are not entirely surprised to walk past a group of singers in matador costumes into the main square to see an enormous bull, toreros hat, fan, castanets, flamenco dancers and Spanish guitar.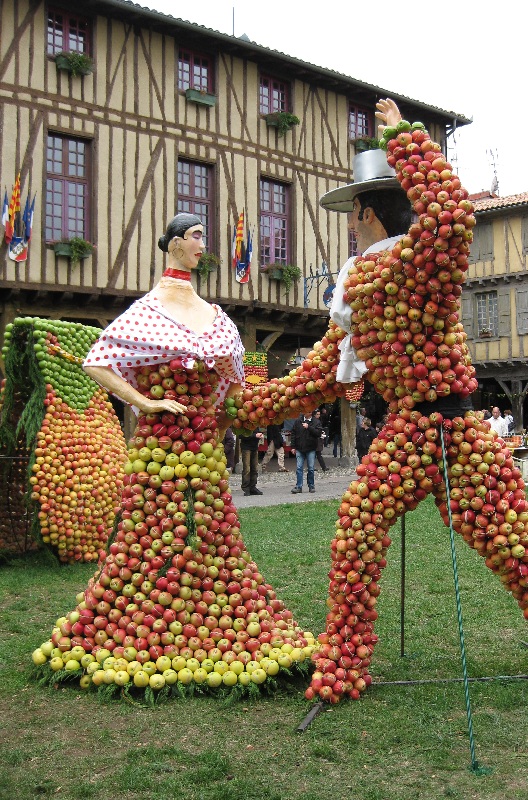 Very app-ealing... (sorry) Flamenco dancers and castanets
"They're not as large as in previous years", says Jeff
They look pretty big to me. This, for example is the six-stringed Spanish guitar with me standing in front of it. I call this pretty large!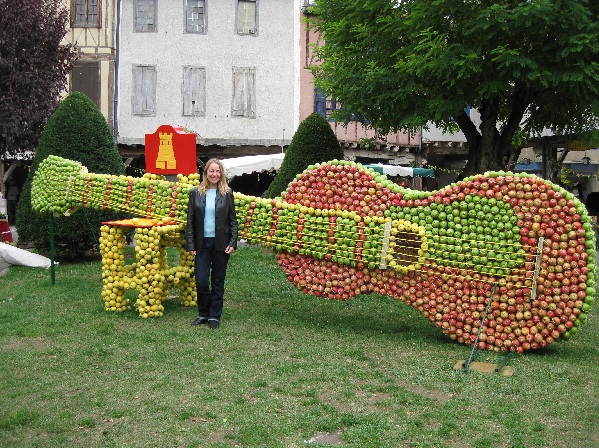 There are many apple-related goodies being sold from stalls surrounding the apple sculptures. We could have bought a huge sack of any the 15 varieties grown in the Mirepoix region, some of which are familiar and available in UK supermarkets (Pink Lady, Golden Delicious, Braeburn, Granny Smith, Fuji) and others which are unfamiliar but delicious looking (Belle de Boskoop, Blechard Chantecler, Reinette Grise du Canada, Reine des reinettes). Producteurs from the four orchards that surround Mirepoix proudly display their wares which are, apparently, the pinkest, juiciest and crunchiest in South West France. This is largely thanks to the microclimate created by Mirepoix's position at the foot of the Pyrénées. The proximity to the mountains and the L'Hers river apparently creates a big swing between day-time and night-time temperatures and favourable humidity levels respectively. This combined with sufficient annual rainfall allows the apples to swell fully producing juicy, crunchy, firm fruit. I am sorely tempted by the delicious looking tarte aux pommes, tarte tatin, croustades and bread which could be washed down with freshly squeezed juice, cider or apple eau-de-vie. Stalls are selling compotes, jams and jellies, children are slowly consuming sticky toffee apples and most of the restaurants are offering apple based dishes on their menus.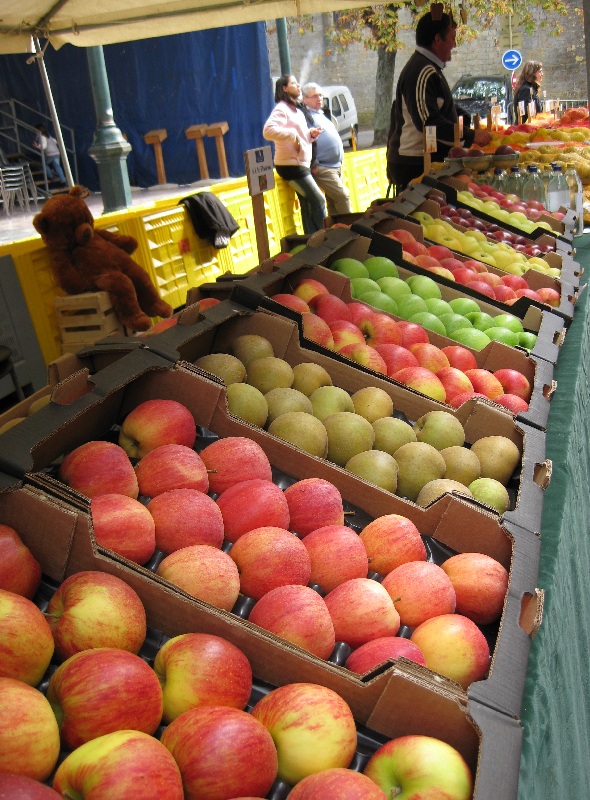 15 varieties of locally-grown apples are on display
The annual Fête de la Pomme is a two day festival and this forces me to think once again about social and cultural difference between France and the UK. I am betting that if this was held in the UK there would be visual evidence of vandalism by the second day. Take the bull for example. He sports a full set of dangly bits (just in case you failed to deduce from the huge horns that he is male) and I am confident that these would have been either removed or embellished in some crude manner if this was the UK. I also cannot look at the Flamenco dancers without imagining some hormonally-charged British teenager nibbling the initials of their intended in the bulging thighs of the male dancer or on the lady's bottom. Here in France, of course, the sculptures remain in pristine condition. Vive la différence!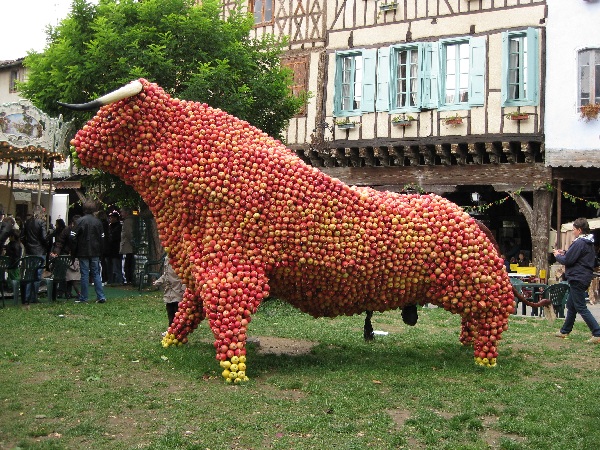 Yup, its a boy
We are about to leave when the peace is shattered by what sounds like a combine harvester starting up. We peer over peoples heads to see the sky filling with clouds of fumes emitted by a procession of tractors which is trying to force it's way through the crowd into the cathedral car park. These agricultural workhorses are in varying states of disrepair. Some have clearly had a recent lick of paint while others look as it they have just had chickens and bales of straw lifted off them. "Ben Hur" in particular is rattling and wheezing in a cartoon-like manner. Another is spraying boiling water over its unconcerned looking owner. But it is the air of excitement that takes me rather by surprise. A blonde mini-skirted young lady breathlessly asks the farmer next to me if she can sit on his tractor to have her photo taken. Is she some kind of frustrated farmer? Does it rekindle childhood memories of summer on the farm? Maybe she is a tractor groupie! It appears that she is not alone in her enthusiasm. Children are clambering into driving seats and groups of men are deep in conversation, some occasionally rest a hand lovingly on a nearby tractor, gazing at it longingly as if it was an Aston Martin. I even find myself looking closer at the machines on display and can clearly see the pride and passion of the owners.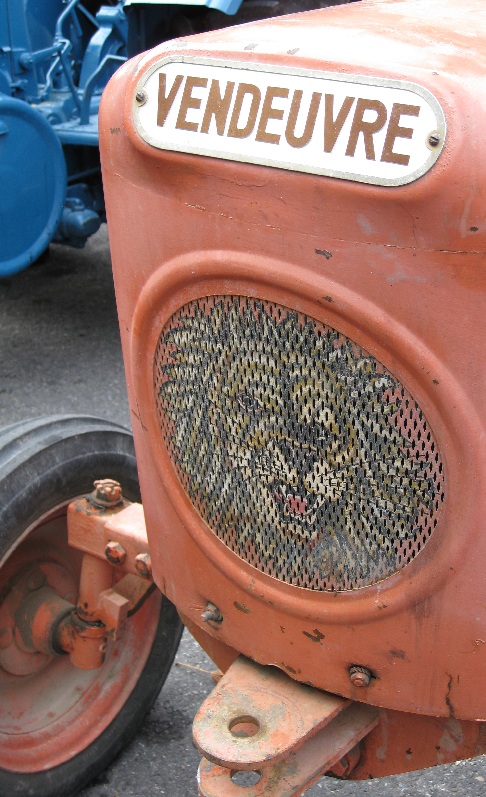 Customised front grille of a Vendeuvre tractor – its a beast!
I've come away with a handful of appley recipes and am about to try risotto de pomme, noix and gorgonzola (using Golden Delicious or Gala apples). I hope we'll go to many more of these events as we've had such a good time at the Fête de la Pomme this year. Hopefully next year's festival will be almost the same as this years. I hope its many years before there is an Apple app for the i-phone or the tractor procession is deemed too risky to the public and is relayed via satellite to a plasma screen in the square.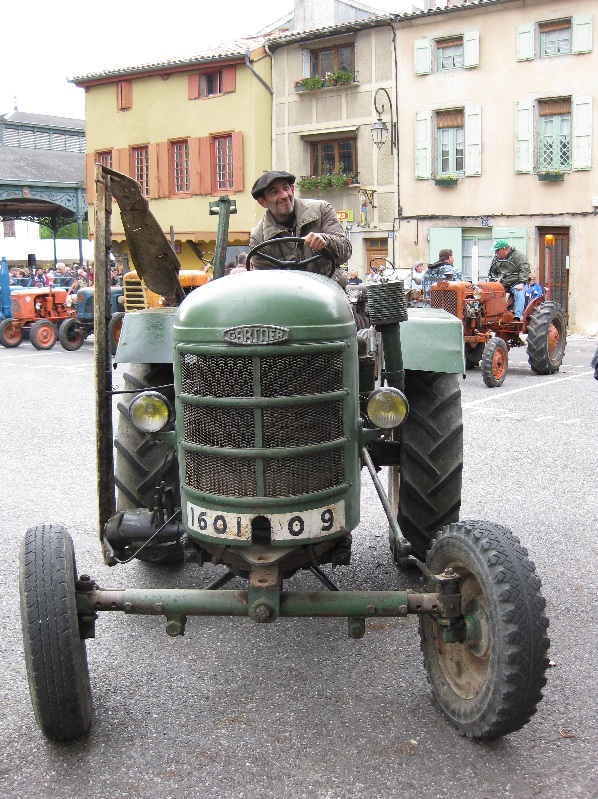 Just one more image. I include this because he (or should that be "they") will be Mr. October in my 2011 calendar...