How we got here....
We have spent a couple of pleasant hours with Malcolm and Pat at home in our Camon house tonight. Rather like us, Malcolm and Pat bought a maison secondaire in Camon rather impulsively 8 years ago. And none of us have subsequently regretted what to some might appear to be a rather rash decision. Speaking to them it occurred to me that I should really have started my blog with the story of how we came to own the ?maison aux symboles?.
Late in 2002 I quit my job with IBM to spend 6 months working and travelling in several southern African countries. On my return to the UK I married Jeff and one of the early decisions we made was that we would both like to leave the UK and live abroad, maybe on a temporary basis or maybe permanently. Jeff's preference was for South Africa but for me there was only one possible option. France. My love affair with France had started at the age of 9 when I started learning French and has rolled forward throughout my life to encompass French literature, film and chanson. I spent many holidays in France in rented gites in all parts of the country and grew to adore the food, weather and laid back lifestyle that many French people appeared to enjoy. Jeff was characteristically supportive of my rather specific requirements. To my memory he merely observed that he did not know much of France outside of Paris and suggested that I might like to book a holiday for us to one of the regions that I was so enamoured with. Needless to say I didn't need any further encouragement and booked 2 gites; the first in Cathar country, Languedoc Roussillon, the second on the edge of the Cevennes, close to Montpelier.
The first gite I booked was actually not at all where I had wanted us to stay. It was virtually on the border between Aude (good, this was where I wanted us to be) and Ariege (I'd never heard of it) and not at all in the heart of Cathar country. But we were both instantly smitten with the sheer beauty of the landscape, with the amazing medieval bastide towns and villages, with the soaring majesty of the Pyrenees, with the sprawling fields of sunflowers, vines, and corn. We did a lot of sightseeing, venturing as far as Andorra (hmmm), hiking up to Peyrepteuse and slobbering our way around Mirepoix's Monday market. We also pressed our noses up against the windows of every estate agent in Mirepoix, telling the other excitedly that we could sell the house in Southsea and live in a chateau. Or live in a working watermill in the mountains. Or on a hilltop domaine with a couple of hectares of vines. Or run a gite complex overlooking the fairy-tale turrets of Carcassonne. Fortunately for us the estate agents appeared to be permanently closed (we later realised that everything is closed on a Sunday, probably on a Monday too and that Bastille Day also fell in this week).
?I'd really like us to go and see a couple of properties before we go to Cabrieres?, said Jeff.
So on our changeover day we drove through Mirepoix for the last time with the car loaded with our bags. Amazingly one estate agent was open and we fatefully crossed their threshold.
?Blimey, you're open?, I said to the blonde lady behind the rather strange desk
?Ta dah?, said Lizzie, stretching her arms out in an expansive gesture.
After a rather short conversation Lizzie announced that as it was lunchtime and she needed to get home to let her dogs out she could show us an empty property in a lovely historic village. And why not? She would show us around and the drop us off at Le Regat, a restaurant on the edge of Lac Montbel.
And so we came to Camon. Lizzie cunningly walked us through the main gate in the bastide walls under the bell tower, through the tiny rambling streets, and along the ramparts past the abbaye. The photo below was our first view of the ?maison aux symbols?.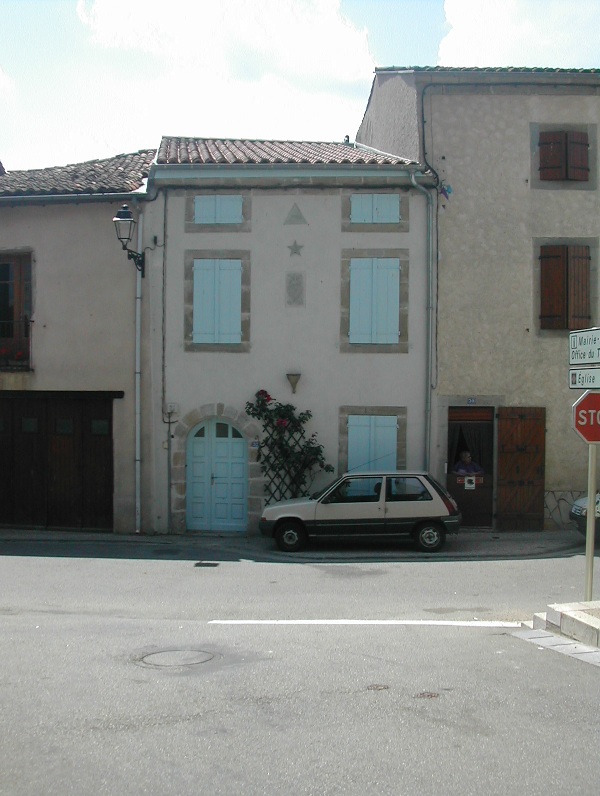 Isn't it pretty? Our first view of the ?maison aux symboles? (and Madame Pech, the next door neighbour) July 2006
Property experts will tell you that the average person makes the decision whether or not to purchase a property within 11 seconds of seeing the exterior. Very pretty, I thought to myself, those pale blue shutters, arched top doors and funny stones and carvings are nice enough. But the real shock hits you as soon as you enter the front door. The house is totally contemporary inside. Open plan, filled with light, with wide oak staircases linking the 3 stories. The quality of the renovation oozes from the handpainted kitchen with granite worksurfaces, the luxury bathroom, the glazed wall opening on to the balcony, the mezzanine that seems to float above the vaulted dining room area. I could go on and on. And on and on. In fact I'm so smitten I am (uncharacteristically) silent.
?What do you think, Nic??, asks Jeff. He is almost panting with enthusiasm.
?We could buy this now. We could remortgage against the house and use the income from the student houses to cover the repayments?
?I love it?, he adds rather unnecessarily.
?Go and look at lots of other properties and then come back and buy this one?, advises Lizzie.
Sound advice from a professional that we really should listen to.
So do we?
Of course we don't.
We don't go to view anything else. We just return to buy it. And like Malcolm and Pat we haven't regretted it since.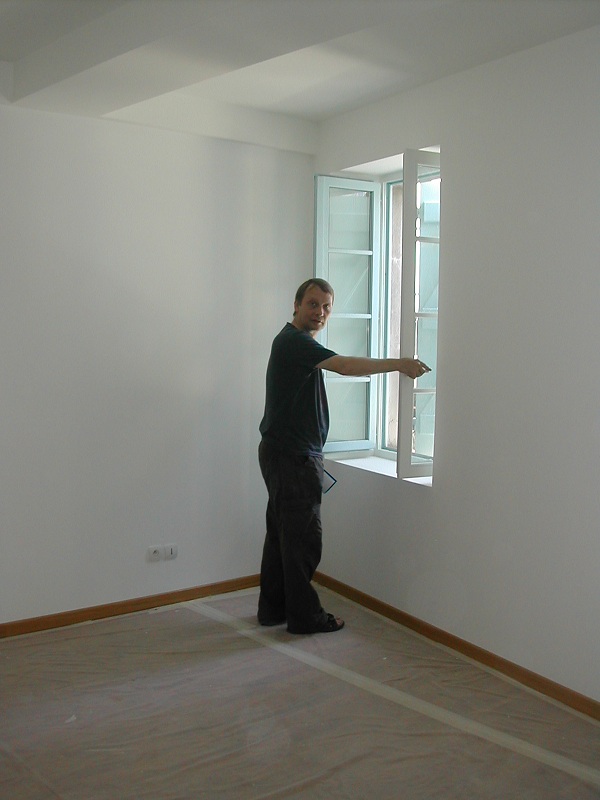 Young Jeff in the front floor bedroom with the oak floor still protected with plastic. The woodwork on the windowframes was still wet and the varnish on the oak stairs was still sticky when we viewed the house for the first time.